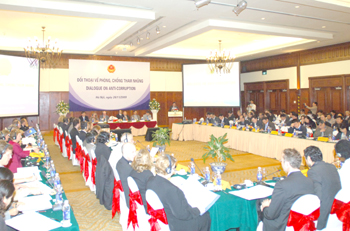 The 6th dialogue with donors on anti-corruption, Hà Nội, November 26, 2009 - Photo: VGP
To realize commitments to international donors, the Government Inspectorate, the Ministry of Health, the Central Steering Committee for Anti-corruption and the Swedish Embassy organized the 6th dialogue on anti-corruption in Hà Nội on Thursday morning.
Under the theme "Anti-corruption in health sector," the dialogue is a good chance for policy makers and donors to propose solutions to raise the effectiveness of anti-corruption work in the healthcare sector.
At the dialogue, leaders of the Health Ministry pledged to continue anti-corruption solutions, such as increasing openness and transparency in making policies, designing and enforcing laws, and promoting supervision.
Many international organizations and donors highly spoke of efficiency, determination and iron-will of the Vietnamese Government in fighting against corruption. They vowed to stand side by side with Việt Nam in "preventing and eradicating corruption."
Swedish Ambassador Rolf Bergman stated that corruption in the healthcare sector can dispossess people's rights of accessing to healthcare services.
He emphasized that the key for successful anti-corruption is to combine the enforcement of laws, supervision work and the change of individual behavior.
Mr. Rolf Bergman suggested that anti-corruption should be regularly popularized in order raise people's awareness of negative impacts of corruption on the society, so that they will say "no" to the evil.