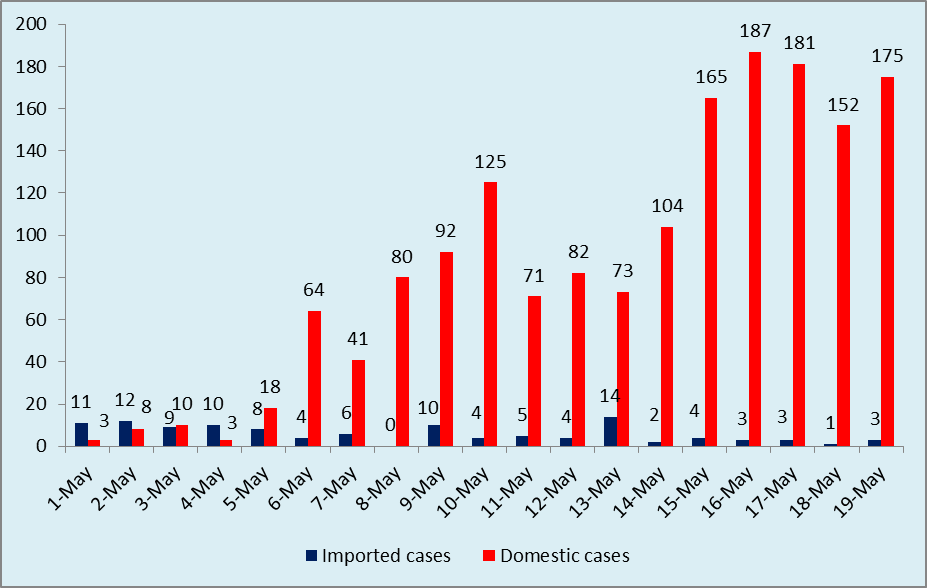 The number of daily new COVID-19 cases confirmed from May 1 to 7:00 pm on May 19
The latest patients include two Vietnamese returnees. One of them was repatriated from Japan on April 24 while the other returned to Viet Nam via the Cau Treo border gate in the central province of Ha Tinh on April 28.
All the other patients are local infection cases reported in Bac Giang (78), Bac Ninh (21), Dien Bien (six), Da Nang (two), Ho Chi Minh City (one), and Ha Noi-based Cancer Hospital (one).
Earlier the same day, the ministry reported 67 positive cases, including one Belgian man and 66 local residents.
Viet Nam is experiencing the fourth wave of local transmissions, with 1,647 domestic cases confirmed in 28 cities and provinces since April 27, 2021.
Among the above localities, Bac Giang has been hit hardest with 605 cases, followed by the nearby province of Bac Ninh (335), and Ha Noi (174)./.
By Thuy Dung