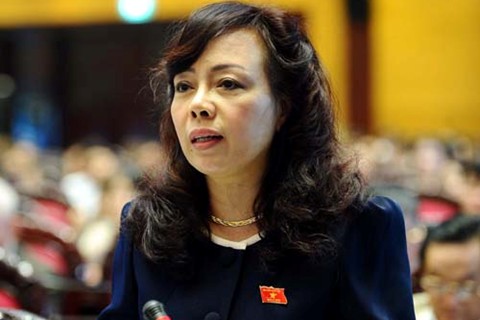 Health Minister Nguyen Thi Kim Tien
The Health Minister made the point on June 11 at the National Assembly's Q&A session.
She quoted a survey of prices on six popular drugs at hospitals in the two Asian countries as saying that medicines are not costly in Viet Nam.
According to a data published by the General Statistics Office, prices of drugs ranked up to 9th among 11 groups of commodities.
In comparison with prices of 36 popular drugs at Chinese and Filipino hospitals, those in Viet Nam were lower from 1.5-2 times and 2-3 times respectively.
A recent survey jointly conducted by the World Health Organization and the Health Strategy and Policy Institute examining rising prices of around 3,000 types of drugs said that the price of domestic drugs rose slightly. Imported ones saw prices rising at medium level. (chi ko biet medium level la muc ntn)
According to Minister Tien, prices of drugs in Viet Nam are jointly managed by the Ministry of Finance, the Ministry of Industry and Trade, the Ministry of Health under the Pharmacy Law in 2005, the Law on Prices and the Bidding Law./.
By Kim Anh