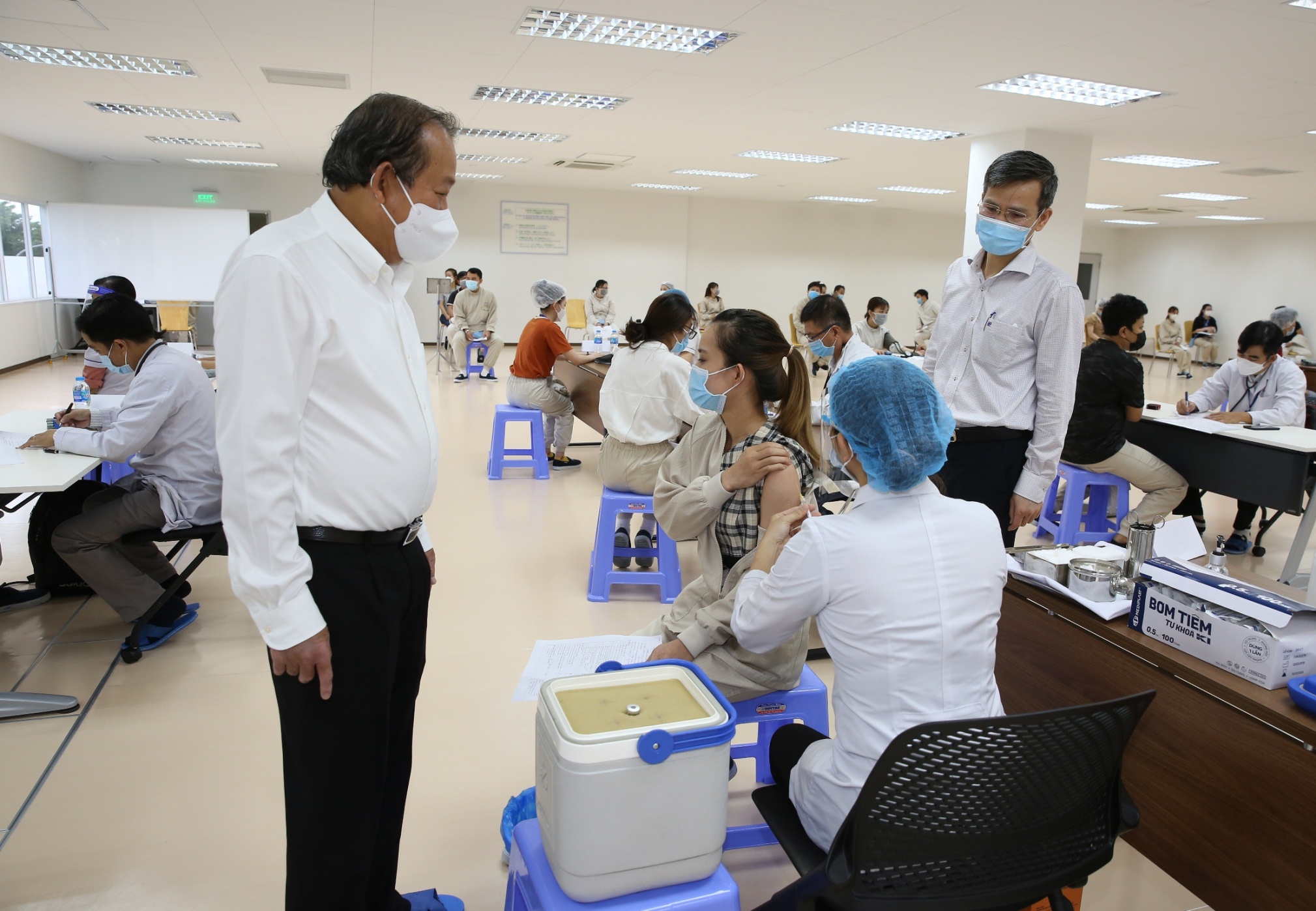 Permanent Deputy Prime Minister Truong Hoa Binh (left) visits a vaccination site in Ho Chi Minh City, June 19, 2021 - Photo: VGP/Manh Hung
VGP – A launching ceremony of the COVID-19 vaccination campaign in Ho Chi Minh City - one of the current biggest coronavirus hotspots, was held on June 19.
The event was attended by Permanent Deputy Prime Minister Truong Hoa Binh, Secretary of Ho Chi Minh City's Party Committee Nguyen Van Nen, Minister of Information and Communications Nguyen Manh Hung, Minister of Health Nguyen Thanh Long, Minister of Industry and Trade Nguyen Hong Dien and Consul General of Japan in Ho Chi Minh City Nobuhiro Watanabe.
Addressing the ceremony, Deputy PM Truong said the southern metrololis has recorded more than 1,000 community infection cases since the fourth COVID-19 wave broke out in Viet Nam on April 27 this year.
The COVID-19 outbreaks have produced multi-faceted impacts on people's life and economic development in the city, prompting the municipal authorities to impose social distancing over the last three weeks.
On behalf of the Party and State leaders, Truong praised the great efforts made by the front line workers in containing the pandemic while expressing thanks to the people for joining hands and sharing difficulties with the authorities during the social distancing period.
He also thanked the Government and people of Japan for offering one million vaccine doses to Viet Nam, saying that this is a timely and precious gift indicating mutual assistance between the two countries in this hard time.
Right after arriving in Viet Nam, the Ministry of Health allocated 800,000 million doses to Ho Chi Minh and 200,000 doses to Bac Giang and Bac Ninh – the other COVID-19 hotspots in north Viet Nam.
In this campaign, Ho Chi Minh City will administer a total of 836,000 doses to its citizens at 650 vaccination sites with the participation of 5,000 health workers from June 19-27.
So far, Viet Nam has received nearly four million AstraZeneca vaccine doses, including nearly 2.5 million doses shipped via the COVAX Facility and one million doses granted by the Japanese Government.
According to the Ministry of Health, as many as 2,233,208 COVID-19 vaccine doses were administered as of late June 18, and 105,856 people got fully vaccinated.
The Vietnamese Government set a goal to acquire 150 million COVID-19 vaccine doses this year to cover 70 percent of the country's population.
By Thuy Dung