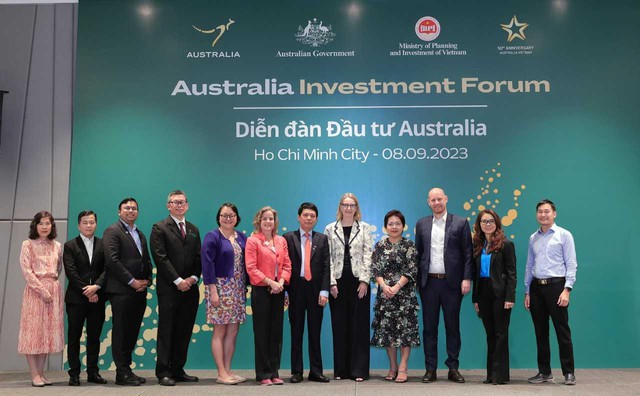 The event was co-organized by the Australian Trade and Investment Commission (Austrade), and the Viet Nam Foreign Investment Agency (FIA), Ministry of Planning and Investment to mark the 50th founding anniversary of diplomatic ties between the two countries.

This forum aimed to help more than 200 Vietnamese business representatives grasp investment opportunities in Australia.
Australia's relationship with Viet Nam is one of the most important, diverse and dynamic in the region. Viet Nam–Australia relations grows strongly across all sectors. Both countries set goal to double the scale of two-way investment and become each other's top 10 trading partners in the future.
The official visit in August to Viet Nam by Australian Foreign Minister Penny Wong, to co-chair the 5th Foreign Ministers' Meeting of the two countries, showed that Australia attaches importance to the strategic partnership with Viet Nam and committed to elevating the two countries' relationship to a "Comprehensive Strategic Partnership".
Trade between Viet Nam and Australia reached US$16 billion in 2022, making Viet Nam the 10th largest trade partner of Australia and Australia becomes Viet Nam's 7th largest trade partner.
On investment, Australian investors are operating 593 projects in Viet Nam with a total registered capital of approximately US$2 billion, ranking 20th out of 143 countries and territories investing in the Southeast Asian nation (March 2023), focusing on the fields of processing industry, manufacturing, accommodation and catering services, agriculture, forestry and fishery.
Most recently Australian businesses are investing in Viet Nam and teaming up with Viet Nam business partners in resources and energy sector with the focus on renewable energy, battery for electric vehicle and energy storage solutions, to contribute to Viet Nam energy transition toward the goal of net-zero commitment by 2050.
Meanwhile, Vietnamese businesses have invested around US$500 million in Australia.
Joining the Australia Investment Forum, Australian Consul-General in Ho Chi Minh City Sarah Hooper shared, with an open economy, multiple free trade agreements (FTAs) and strong cultural links with Asia, both nations see enormous potential to expand the trade and investment relationship.
There are real opportunities in Australia for Vietnamese investors who take the time to get to know the market and to invest in Australia which link to their supply chains in Viet Nam and in international markets, she added.
Representatives from Australian federal agencies and state governments and Vietnamese government foreign investment agency and investors shared information on foreign direct investment policies, market opportunities, challenges and provided guidance on business practices that can support businesses with their investment plans.
The forum also offered chances for Vietnamese businesses to discuss directly with representatives of governments of Australia's states and territories./.