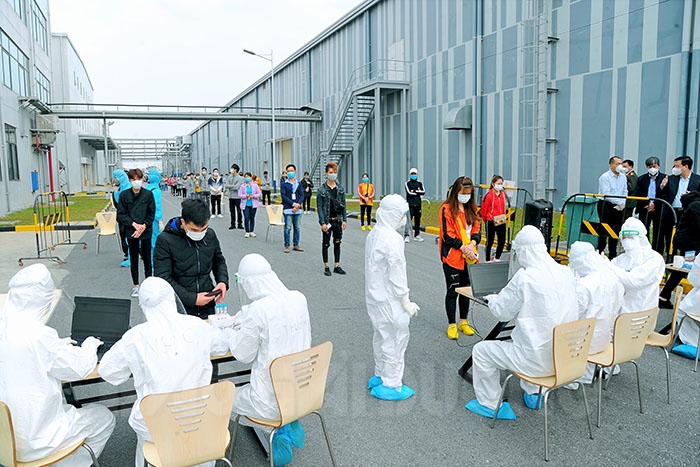 Health workers collect test samples at a factory in Hai Duong Province
>>> Deceased Japanese confirmed positive for COVID-19
>>> Weekly COVID-19 update: 227 new cases, 59 recoveries
Chi Linh City - the biggest COVID-19 hotspot in the locality - will continue to be placed under lockdown until the pandemic is stamped out.
Local police was assigned to set up checkpoints and strictly fine those who intentionally violate regulations on COVID-19 prevention and control.
Pham Xuan Thanh, Secretary of the Provincial Party Committee, called for taking measures to minimize cross-infections in quarantine sites and lockdown areas.
He tasked the provincial Department of Health to direct the Center for Disease Control to expand testing capacity to 30,000 samples per day.
Students at the Medical Technical University and the Central College of Pharmacy located in the province will be mobilized to join collection of test samples.
Management boards of industrial parks were tasked to coordinate with local authorities to inspect factories to see whether they meet regulations on COVID-19 prevention and control.
The management boards shall have to conduct mandatory tests for all business owners and workers who are residents in Cam Giang District.
Experts working at factories in Cam Giang District shall have to register for COVID-19 diagnosis and only return to work if they test negative for the virus.
As of 6:00 am on February 15, Hai Duong recorded 475 community infection cases, including 234 in Chi Linh City, 70 in Cam Giang District, and 65 in Kinh Mon Town.
As many as 72 out of 235 communes and wards of 11 districts and cities have identified COVID-19 cases.
The number of F1 individuals who have been in close contact with COVID-19 patients rose to 13,821, of whom 2,004 have completed mandatory quarantine.
By Huong Giang
Follow us on Twitter @VNGovtPortal and Facebook page @VNGov