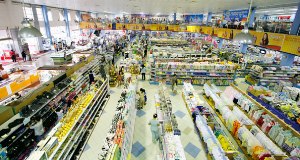 The Hà Nội Promotion Month 2009 lasts from November 1 to 30
The opening ceremony is scheduled on October 31. And from November 1 on, consumers can receive big discounts at nearly 1000 promotion shops throughout the city.
The top sale products include domestic utensils, apparels, TV sets, refrigerators, gold jewelry, gemstones, post and telecommunication services.
The organizers pledged that all products are of good quality.
There is a Gold Promotion Day on November 15 when the discount rates can reach 30-50%.
The Promotion Month 2009 aims at stimulating consumption, stabilizing market prices, promoting production, business and economic growth, so as to put the "Buy Việt Nam" Movement into reality.