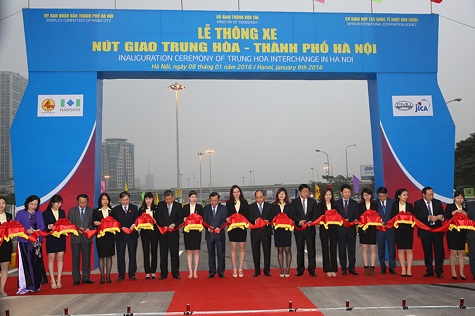 Photo: VGP
The ceremonies saw the presence of Politburo member steering the Ha Noi municipal Party Committee Pham Quang Nghi, Transport Minister Dinh La Thang and Chairman of the National Assembly Economic Committee Nguyen Van Giau, among others.
Addressing the ceremonies, Deputy PM Phuc praised efforts of the Transport Ministry and Ha Noi in implementing the projects to ease traffic congestion and mitigate traffic accidents in the city.
The two projects are part of Ha Noi's master plan to 2020 to meet increasing transport demand.
The Trung Hoa tunnel's construction began on January 18, 2015 with a contracted schedule of 18 months and a VND1,087 billion (US$42.8 million).The two-way tunnel connects Thang Long Highway and Tran Duy Hung Street, comprising two different tunnels. Each tunnel heading to Tran Duy Hung Street is 12 meters wide with three 3.5-meter lanes while that heading to Thang Long Highway is 16.25 meters each.
The total length of the tunnel and the approach road is approximately 614.13 meters. The expanded approach road from Thang Long Highway is around 2,573 meters long and that from Khuat Duy Tien and Pham Hung Streets is approximately 580 meters long. The six-lane approach roads allow vehicles' 60km/h speed and 40km/h for those which turn right.
The Thanh Xuan tunnel project, which is part of the Thanh Xuan intersection in Highway 6 project, began on June 28, 2014 with over VND551 billion (US$24.24 million) and an 18 month schedule.
By Vien Nhu