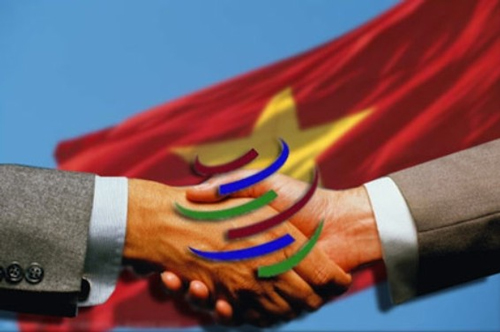 The resolution is part of the Government's efforts to implement the guidelines and policies adopted at the 13thParty Congress.
It targets to build an independent and self-reliant economy, improve the efficiency of international economic integration, ensure fast and sustainable economic growth on the basis of macroeconomic stability, scientific and technological development and innovation.

The resolution focuses on enhancing economic rebound and overcoming the negative impacts of the COVID-19 pandemic, strengthening the linkages of interests with other partners, improving Viet Nam's status and prestige, and safeguarding national security.
Specifically, Viet Nam needs to uphold advantages of international economic integration to boost growth of trade in goods and services, step up and technology application, promote the development of domestic economic sectors, and improve its position in the global value chain.
Besides, the nation should strengthen public-private cooperation, and mobilize social resources, including assistance from multilateral mechanisms, non-governmental organizations and business community in the process of implementing international commitments Viet Nam has joined, especially commitments in free trade agreements (FTAs).
The resolution highlights the need to perfect the trade remedy system to protect the economy, enterprises and domestic market in line with international commitments while improving the competitiveness of the Vietnamese economy, enterprises and products.
During 2023-2030, Viet Nam aims to develop high-quality human resources and improve training quality; actively speed up digital economic integration; effectively exploit FTAs to expand and diversify export markets; as well as actively negotiate multilateral and bilateral agreements; and take part in new economic cooperation and linkage models and frameworks.
Five key solutions are set forth in the resolution, including:
1- Reforming and perfecting economic institutions
2- Improving the business environment, enhancing the competitive capacity
3- Effectively enforcing FTAs
4- Promoting post-COVID-19 economic growth and sustainable development
5- Boosting comprehensive integration in the fields of culture, society, science and technology, security and defense
So far, Viet Nam has set up diplomatic ties with 192 countries all over the world (including 190 out of 193 members of the United Nations), thus manifesting the country's consistent implementation of its foreign policy of diversifying and multilateralizing international relations.
The nation has established economic and trade relations with over 220 partner countries and economies and 71 nations have recognized Viet Nam as a market economy.
Viet Nam has already signed 15 FTAs and is negotiating other four trade deals.
The Southeast Asian nation is the only country which has signed FTAs with all major economic partners, namely the U.S., Japan, China, the EU, South Korea, the United Kingdom and Russia./.