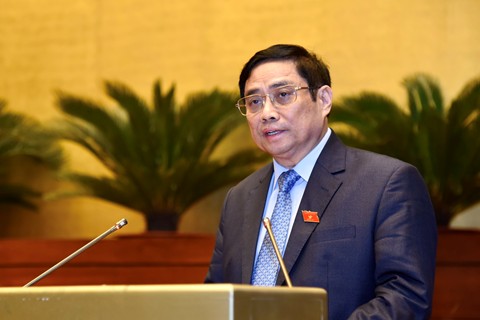 Prime Minister Pham Minh Chinh presents a report at the opening ceremony of the second sitting of the 15th National Assembly, Ha Noi, October 20, 2021. Photo: VGP
The Government also targets to keep budget overspending around 4 percent of the gross domestic product.
To achieve the above targets, the Government will adopt and implement an overall strategy on COVID-19 prevention and control, increase vaccination coverage, and improve capability of the country's healthcare system, said PM Pham.
The Government will focus on economic recovery and give priority to improving institutions, quality of legal documents, law enforcement capacity while determining to make substantial progress in restructuring the economy in association with growth model transformation.
Viet Nam was hit hard by the fourth-19 COVID-19 wave in the third quarter with the GDP shrinking 6.17 percent in Q3 – the first decline since 2000 on a quarterly basis.
The economy only expanded 1.42 in January-September period, mainly because of the imposition of social distancing measures in the economic engine of Ho Chi Minh City and other adjacent localities.
As it is difficult to strive for zero cases, the National Steering Committee for COVID-19 Prevention and Control on September 25 agreed to switch away from "Zero COVID-19" to safe adaptation to the pandemic.
On October 11, the Government has issued Resolution No. 128/NQ-CP adopting provisional guidelines on safe adaptation to the COVID-19 pandemic.
The resolution has become a relief for any business operating in Viet Nam after a long period of social distancing measures, said Chief Representative of the German Industry and Commerce in Viet Nam (AHK Viet Nam) Marko Walde.
It requires that localities' addition measures must not constitute hindrance the movement of goods, production and business activities as well as the mobility of people between provinces and cities./.
By Huong Giang