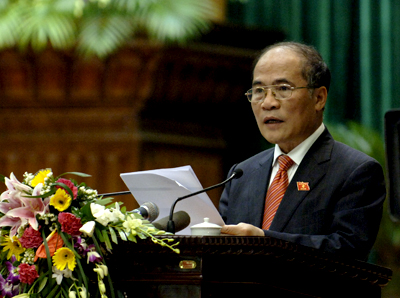 Permanent Deputy PM Nguyễn Sinh Hùng delivers a report at the 7th session of the 12th National Assembly, Hà Nội, May 20, 2010 – Photo: VGP/Hồng Phong
On behalf of the Government, Permanent Deputy PM Nguyễn Sinh Hùng presented a report on the implementation of synchronous measures to stabilize macro-economy, rein in inflation, maintain recovery trend.
The socio-economic picture, according to Mr. Hùng, got better in Q1, with GDP surged by 5.83%, industrial output 13.6%, export turnover 8.9% against the same period last year. The administrative reform entered the second phase. Around 81% of administrative procedures will be streamlined to facilitate business and livelihood.
However, the Government failed to fulfill some targets of CPI and macro-economic stability.
Striving for NA targets in 2010
The Permanent Deputy PM highlighted the Government's determination to put the NA-adopted goals into reality.
Major norms set by the NA in 2010
- GDP growth rate: 6.5 %
- Inflation rate: 7%
- The whole society's total investment capital: accounting for 41% of GDP
- Generating 1.6 million jobs
- Poverty reduction: 10% of poor households
First, to carry out measures on macro-economic stability, inflation curbing and sustained economic recovery;
Second, to bolster production, business, and investment for a GDP growth rate of 6.5% in 2010;
Third, to implement the Resolution adopted at the 7th plenum of the Communist Party of the Central Committee on agriculture, peasants and rural areas;
Four, to spur cultural and social activities, ensure social security and adopt sustainable poverty reduction;
Five, to strengthen activities in the areas of national defense, security, diplomacy for the sake of peace, friendship, cooperation and national development;
Six, to speed up administrative reforms and enhance State management;
Seven, to create unanimity at all administrative levels and generate a high consensus among people for the fulfillment of the national goals in 2010./.
By Hương Giang