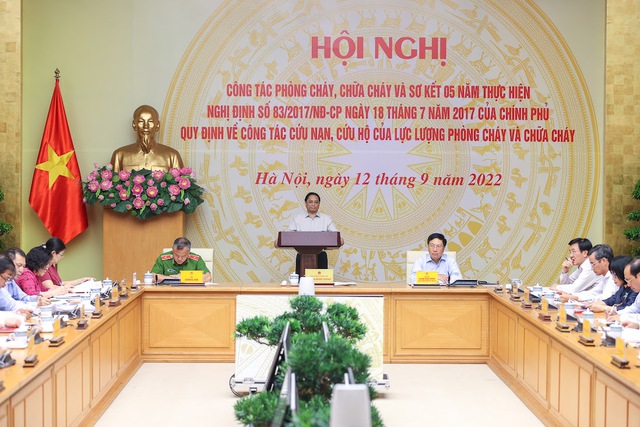 The explosions and fires tore through industrial parks, markets, supermarkets and karaoke bars with devastating consequences.
Addressing the event, Prime Minister Pham conveyed his condolences families of the fire victims, asking provincial and municipal People's Committees to provide support for theses families.
Pham ordered local administrations to work closely with the Ministry of Public Security to address the fire consequences, find out the causes and those responsible these incidents.
It is right time to put in place a new approach to fire prevention and rescue instead of the traditional one in a bid to protect assets and human lives, stressed the Government chief, adding that "People's lives must come first."
Pham said Viet Nam has been on the path of robust urban modernization and industrialization with increasing number of infrastructure, houses and high-rise buildings, production facilities and business activities, thus the demand for energy and chemicals is huge, leading to potential risks of fire, explosion, incidents and accidents.
Meanwhile, people's awareness, behaviors, and habits on fire prevention, fighting, and recue remain limited while necessary skills to respond to fire incidents are modest.
In addition, there are loopholes in State management of fire prevention and fighting.
Earlier, Pham ordered that local authorities must inspect fire prevention at all karaoke bars nationwide and that all karaoke establishments must have secondary emergency exit, either through a balcony, stairs or the roof./.