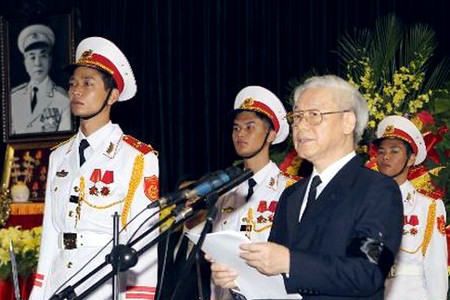 Party General Secretary Nguyen Phu Trong presents the funeral oration to bid farewell to farewell to legendary General Vo Nguyen Giap, October 13, 2013 - Photo: VGP
General Giap's death is a great loss to the Party, State, people, people's army and members of his family, the Party leader affirmed on Sunday.
The Party chief recalled General Giap's long revolutionary life with great contributions to the national defense and development.
Giap joined revolutionary activities since he was 14 years old.
In 1927, he participated in the Tan Viet (New Viet Nam) Revolutionary Party (a predecessor of the Dong Duong Communist Party and now the Communist Party of Viet Nam).
In 1930, he participated in Xo Viet Nghe tinh movement. In early 1940s, Vo Nguyen Giap was assigned to develop revolutionary bases among the youth.
In December, 1944, President Ho Chi Minh assigned him the task of setting up the Viet Nam Propaganda Liberation Army which was later renamed as the Viet Nam People's Army.
During nine years of resistance war against French colonialists, under the leadership of President Ho Chi Minh, Giap directly commanded a number of important campaigns. Particularly in 1954, he was assigned to directly commanded Dien Bien Phu campaign.
General Giap continued to join the Party Central Committee to lead the nation to defeat all American imperialists' military strategies, which culminated in the Ho Chi Minh Campaign leading to the national reunification.
In peaceful time, as a Vice Chairman of the Deputy Chairman of the Council of Ministers, Giap together with other leaders of the Party, State and Army led the nation to conduct the renewal process.
The name of General Giap went along with Viet Nam's glorious triumph of the two resistance wars against the French colonialists and US imperialists and with the national construction and defense cause.

During the building of socialism, in any position, General Giap devoted all of his ardor and contributed many important opinions to the country's major issues, especially in the fields of science and technology, education and training, defense and security, as well as in the promotion of external relations.

For the international revolutionary movement, the General's dedication was a great encouragement for the struggles for peace, national independence and social progress, and against oppression, exploitation and injustice in colonial countries in Asia, Africa and Latin America .
His name has been honored by the world and admired by the progressive and peace-loving people.

The Vietnamese Party, State and people highly valued the merits of General Giap, who is honored as the eldest brother of the Viet Nam People's Army. His personality and tremendous contributions are imprinted on the mind of Vietnamese people. He is a general of the people and his name will go down into Vietnamese history forever./.
By Ngoc Van