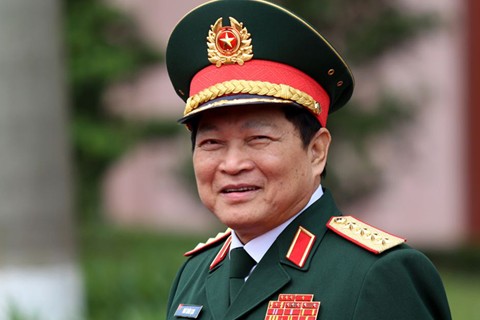 Minister of National Defense Ngo Xuan Lich
>>> Viet Nam National Defense WHITE PAPER 2019
Ngo Xuan Lich, Politburo member and Minister of National Defense stressed the point at his press briefing ahead of the country's lunar New Year holiday.
Lich said that the 2019 White Paper enunciates "Four No's" principle for the development of the Viet Nam People's Army (VPA).
Accordingly, Viet Nam consistently advocates neither joining any military alliances, siding with one country against another, giving any other countries permission to set up military bases or use its territory to carry out military activities against other countries, nor using force or threatening to use force in international relations, Lich affirmed.
He said Viet Nam will focus on building the VPA strong in politics, ideology and organization, absolutely loyal to the Party, the Homeland and people with an integrated strength and increased combat power.
The VPA will be developed in an adept, compact, strong, mobile, highly flexible and efficient manner with synchronous organizational structure in order to meet the demands of combat missions, according to Lich.
Regarding 2020, Lich said the Ministry of National Defense will host 24 military/defense meetings as the ASEAN Chair and 6 meetings/forums as non-permanent member of the United Nations Security Council.
The aforesaid events include ASEAN Defense Ministers' Meeting (ADMM), ASEAN Defense Ministerial Meeting Plus (ADMM ), ASEAN Maritime Exercise among others.
He affirmed the Ministry of National Defense will try its best to successfully host those events in order to contribute to maintaining peaceful and stable environment for development in the region and the world.
By Quang Minh
Follow us on Twitter @VNGovtPortal