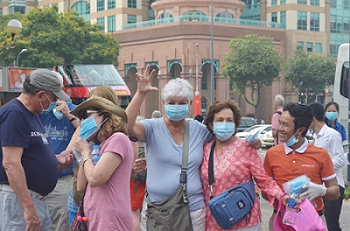 Foreigners in VN requested to wear face masks in public places
The country requests foreigners in Viet Nam as well as Vietnamese citizens to wear face masks in public places such as supermarkets, airports, railway stations, bus stations and public transport vehicles.
In addition, all passengers on domestic and international flights to and from Viet Nam must also wear masks throughout the flights and at terminals.
The request asking those who come from or travel through Covid-19 infected areas to regularly update airlines' regulations, ensuring all necessary documents are available to enjoy flights, especially health certification documents (if any).
In an attempt to contain the spread of the disease, accommodation facilities in Ha Noi have informed their guests about the requirement.
In Ho Chi Minh City, most people adhere to the government's requirement to wear face masks in public places. Only a few locals and tourists are still not aware of the significance of doing so to prevent the spread of the contagious disease.
Da Nang train station has requested passengers to wear face masks when purchasing tickets and being on board.
According to the Viet Nam Garment and Textile Corporation, by March 11 its affiliated businesses had supplied over 10.5 million anti-microbial face masks to the market whilst manufacturing a further 500 tons of anti-microbial materials for its textile partners.
The corporation affirmed that all of its 18 affiliated companies had increased their production capacity and are now capable of meeting the market's increasing demands./.
By Vien Nhu