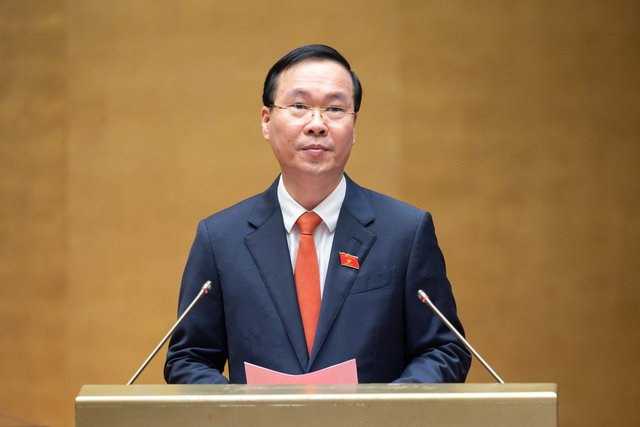 In his congratulatory message, Malaysian King Al-Sultan Abdullah expressed his hope that under the leadership of the President, Viet Nam will continue to develop fast and witness strong economic growth.
On the occasion of the 50th anniversary of diplomatic ties, the Malaysian King expects to enhance close cooperation with the Vietnamese State leader and consolidate and strengthen Viet Nam-Malaysia strategic partnership.
President of Germany Frank-Walter Steinmeier noted in his congratulatory message that Germany and Viet Nam have traditional friendship relations, expressing his wish to work together with Viet Nam to expand collaboration in fields of trade, investment labor and climate change adaption.
U.S. President Joe Biden congratulated Vo, reaffirming the U.S. commitment to an independent and prosperous Viet Nam.
The U.S. leader wished to join hands with the Vietnamese President to promote cooperative and friendship relations between the two nations on the basis of common interests.
Biden expressed his delight on the achievements in the bilateral relations across fields, including people-to-people exchanges, COVID-19 fight and climate change response, making contribution to security and prosperity in the region and the world.
Governor General of Canada Mary Simon reiterated that the relations between Viet Nam and Canada have gained fruitful developments within comprehensive partnership framework on the basis of common interests and mutual support.
She hoped that the bilateral relationship will continue flourishing for the sake of their peoples, particularly in the context of celebrating the 50th anniversary of diplomatic ties in 2023.
On this occasion, the Vietnamese President also received congratulations from President of Armenia Vahagn Khachaturyan, President of Poland Andrzej Duda, Queen of Denmark Margrethe II, President of Kazakhstan Kassym-Jomart Tokayev, President of Finland Sauli Niinisto, President of the Seychelles Wavel Ramkalawan, President of Tajikistan Emomali Rahmon, President of Turkmenistan Serdar Berdimuhamedow, President of Uzbekistan Shavkat Mirziyoyev, and UN Secretary-General Antonio Guterres./.