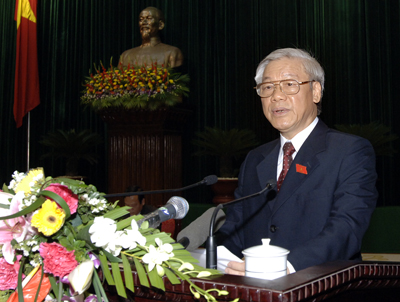 NA Chairman Nguyễn Phú Trọng delivers a keynote speech at the opening ceremony of the 7th session of the 12th NA, Hà Nội, May 20, 2010 – Photo: VGP/Nhật Bắc
During one month, NA deputies are expected to discuss and decide five key issues as followes:
First, NA deputies will listen to the Government's reports on the implementation of socio-economic plans and State budget in 2009 and in the first months of 2010.
Second, the law-makers will talk about and approve ten bills, discuss two draft resolutions and give comments on six other bills.
Third, the participants will supervise the implementation of the laws and policies on establishment, investment and quality in tertiary education, review outcomes of the inspection work and reports on settling petitions of voters.
Four, the NA deputies will hear reports on anti-corruption, thrift practice, crimes and others.
Five, they will consider and decide the construction of Hà Nội-Hồ Chí Minh City Express Railway and the Master Plan of Hà Nội's construction by 2030 with a vision to 2050.
By Khánh Phương