The festival themed "Việt Nam Seafood: Potential, Development and Integration" was attended by many officials, including PM Nguyễn Tấn Dũng.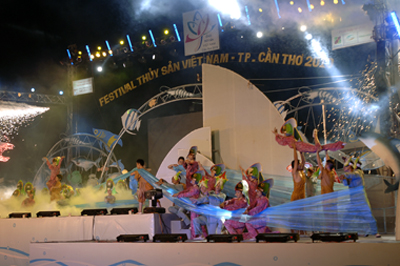 The first Việt Nam Seafood Festival opens in the Mekong Delta city of Cần Thơ, Việt Nam, April 24, 2010. - Photo: VGP

Addressing the festival's opening ceremony, PM Dũng said that seafood plays an important role in foodstuff production and life of Vietnamese people, and that Vietnamese seafood is now available in 160 countries and territories. With over 3,200 km of coastlines and many ponds, lakes, rivers, and streams, Việt Nam is one of the six biggest seafood exporters in the world.

PM Dũng also said that the country can expand aquaculture areas and increase productivity, cut production costs, lower prices and improve product quality. The local seafood industry is still weak in terms of equipment, logistics, aquaculture techniques, and production, he noted.

The PM proposed relevant sectors, localities and raisers nationwide to focus on intensifying the application of scientific and technological advances in seafood production and processing.

The festival, taking place from April 24 to 27, consists of 20 major events, including seminars on raising seafood quality and policies on sustainable seafood development, fairs, gastronomy festivals and seafood-related contests. Representatives from nearly 30 cities and provinces attended the festival.