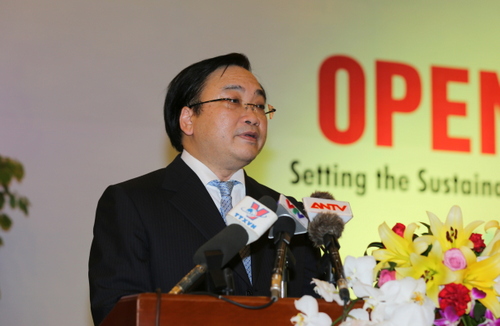 Photo: VGP
Under the theme "Global targets, local benefits – Setting the Sustainable Development Agenda for the Seas of East Asia beyond 2015", the congress aims to expand effective activities towards a green economy and devise a new plan for East Asian region.
Addressing the opening ceremony, Deputy PM Hoang Trung Hai stressed the significance of East Asian seas in security, national defence, socio-economic development and trade of most of nations around the world.
He noted that natural resources have been over-exploited and the sea environment has been contaminated, saying that negative impacts by human beings' activities, particularly illegal large-scale construction and accretion on islands, are threatening maritime security and sovereignty of each nation, as well as the daily life.
As a result, the protection of the sea environment, natural resources and ecology for sustainable development needs collaboration of many countries, especially coastal nations, Deputy PM Hai added.
As scheduled, the congress comprises three plenary sessions, 13 international workshops and three forums.
The EAS is a triennial congress organized alternately by the Partnerships in Environmental Management for the Seas of East Asia (PEMSEA) and its members in the member countries.
Since 2003, four congresses have been held. The previous congress took place in Chang Won, Nam Gyeong, the Republic of Korea.

Viet Nam hosted this year's congress to affirm its role and contributions to peace, friendship and development in the East Asian region and the world.