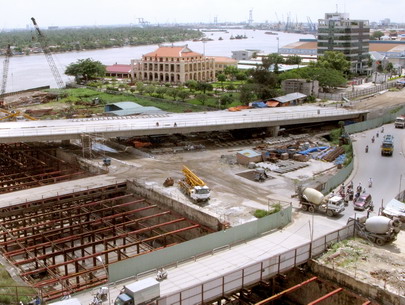 A transport project using FDI capital, Hồ Chí Minh City, Việt Nam
May's FDI disbursement has risen by US $1.1 billion, a relative high figure compared to the previous years, recording an increase of 7.1% in the first five months against the same period last year.
More and more foreign investors made investment commitments in Việt Nam over the reviewed period. Over 360 new projects have been licensed with the aggregate capital of US $7.1 billion, an increase of 40% against the same period of 2009.
Some other 107 projects have been expanded with the additional capital of US $ 403 million.
The balance of FDI disbursement and inflow is truly a positive sign.
Processing and manufacturing industries became most attractive sectors with 127 new projects worth of US $2.55 billion, equivalent to 33.9% of the total inflow.
With three projects only, the distribution of electricity, gas, and clean water occupied the 2nd position, with the registered capital of US $2.2 billion. Meanwhile, real property fell down to the 3rd, with ten new projects valued US $1.281 in total.
The ranks of biggest foreign investors in Việt Nam have changed in May. The Netherlands still remains on the top while the Republic of Korea surpasses Japan and the US to become the second-best.
The Southern province of Bà Rịa-Vũng Tàu is the biggest FDI receiver (US $2.16 billion), followed by Quảng Ninh (US $2.14 billion), Nghệ An (US $567 million), and Hồ Chí Minh City (US $340 million).
By Hải Minh