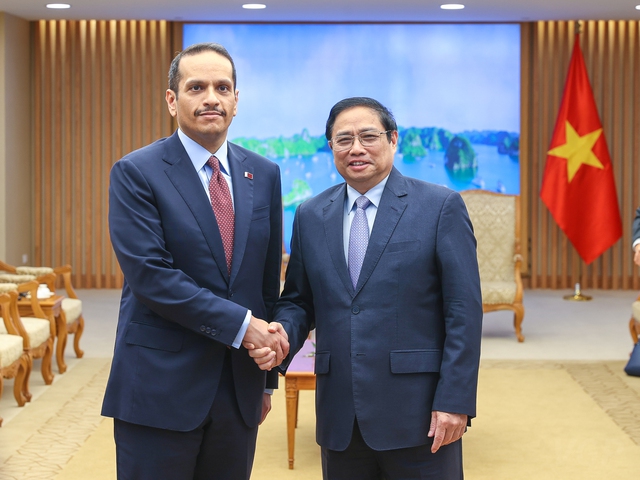 Prime Minister Pham Minh Chinh made the above statement while hosting a reception for Qatari Deputy Prime Minister and Foreign Minister Sheikh Mohammed bin Abdulrahman Al-Thani in Ha Noi on August 15.
The Government chief spoke highly of the positive developments in the multi-faceted relations between the two nations, congratulating Qatar on signing the Instrument of Accession to the Treaty of Amity and Cooperation (TAC) with ASEAN.
Viet Nam always advocates effective, close and comprehensive cooperation between Qatar and ASEAN, he emphasized.
Pham urged both countries to enhance delegation exchanges, promote people-to-people and cultural exchanges, and facilitate each side's advantageous products to enter their markets.
Pham suggested Qatar help develop the Halal industry in Viet Nam that meets standards of the Islamic market.
He asked both sides to soon organize the third meeting of Viet Nam-Qatar Inter-Governmental Committee, and called for Qatar's cooperation and investment in such areas of infrastructure, petrol, renewable energy, green technology and digital transformation in Viet Nam.
The Prime Minister also asked Qatar provide official development assistance (ODA) capital for infrastructure development and agriculture projects in the Southeast Asian nation, thus contributing to ensuring food security for Qatar and the region.
He stressed the need of joining hands in effectively implementing the agreement on labor cooperation.
Pham welcomed the signing of an agreement on visa exemption for diplomatic and official passport holders between the two countries, asking both sides to enhance negotiations on other cooperative agreements in fields of maritime, customs, justice, security, culture and tourism.
For his part, the Qatari Deputy Prime Minister reiterated that Qatar attaches importance to strengthening the relationship with Viet Nam, regarding the Southeast Asian nation as a gateway to enter ASEAN.
Viet Nam is an attractive destination for Qatari investors and tourists, he said.
He vowed to accelerate negotiations on a bilateral free trade agreement and an agreement on visa exemption for ordinary passport holders to promote tourism and exchanges between the two sides' enterprises.