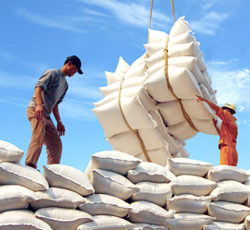 Việt Nam ships 2.14 million tons of rice in the first four months of 2010 – Illustration photo
In April, agricultural products have posted a turnover of US $890 million, seeing a year-on-year increase of 5.3%. The figures for aquatic products are US $350 million and 17.4% respectively, while forestry products US $300 million and 33.7%.
Although Vietnamese timber exporters are forced to abide by the US Lacey Act on forestry since April 1, timber export volume reached a record high of over US $1 billion, 35.3% higher than the same period last year. So, the ambitious target of US $3 billion revenue from timber export in 2010 is feasible.
Noticeably, key agro-products boast for positive outcomes. In the fourth month, Việt Nam has sold abroad 700,000 tons of rice, earning US $385 million while shipping 173,000 tons of rubber with US $445 million in value.
However, in April, coffee products saw a 21.9% year-on-year decline in volume.
On the other hand, according to the MARD, Việt Nam's total import of agricultural materials and products rocketed to US $5 billion, up 77% against the same period last year.
The MARD suggested competent agencies apply appropriate measures to boost the trade surplus in the agro-forestry-fishery sector.
By Khánh Phương