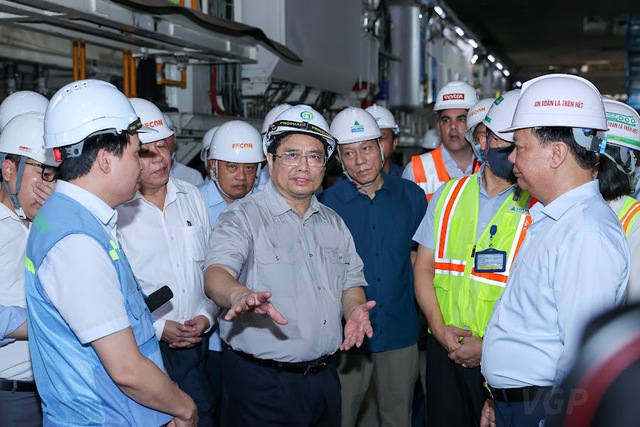 Pham fixed the above deadline at a meeting held this morning to discuss ways to handle difficulties and problems to boost the overall progress of the line project.

In addition, the Government chief also urged investors and contractors to shorten time for completion of the underground section by half instead of 2027 as suggested by the project consultant unit.
The metro line has total length of 12.5km from Nhon in the western district of Nam Tu Liem to the downtown Ha Noi Railway Station.
It comprises 8.5 kilometers of elevated tracks with the rest being underground.
Work on the metro line began in 2010 at an estimated cost of US$1.2 billion and was scheduled to be completed in 2017.
Due to several delays, only 75 percent of the project workload has been completed, which have also pushed the total investment capital to more than VND34 trillion (around US$1.55 billion).
Work on the 4-km underground section has also been suspended by the South Korean-Italian joint venture contractor Hyundai E&C-Ghella since July 2021 as site clearance remains slow.
The project is one of 10 metro lines planned for Ha Noi by 2030 with a total length of 417km, 82 percent of it above the ground.
The first metro line, running from Cat Linh Station in downtown Dong Da district to Yen Nghia Station in south-west Ha Dong district, opened to traffic in November 2021 after 10 years of construction and several delays.
Statistics from Ha Noi Metro company show that, from its first day of commercial operation in November last year to May 26, more than 3.1 million passengers used the Cat Linh-Ha Dong line.
The train is on schedule 99.98 per cent of the time. Daily passengers with a monthly pass account for up to 60 per cent of travellers, and up to 80 per cent during rush hours./.