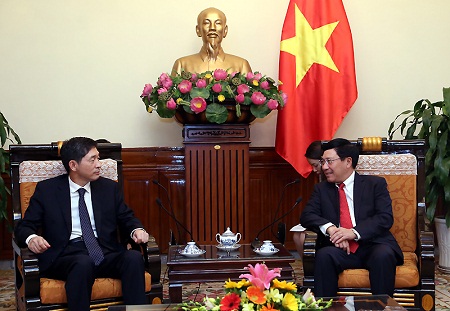 Deputy PM and FM Pham Binh Minh receives the outgoing RoK diplomat Lee Hyuk, Ha Noi, April 10, 2018
Receiving the outgoing RoK diplomat in Ha Noi on April 10, Politburo member Minh affirmed that Viet Nam attaches great importance to enhancing its strategic cooperative partnership with the RoK, while staying ready to join the RoK side in effectively implementing the common perceptions reached by the two countries' senior leaders.
He also stressed Viet Nam's commitment to unceasingly expanding and deepening all the current cooperation fields between the two sides, strengthening the people-to-people exchange, and developing bilateral ties to a new height, thus contributing to peace, stability, cooperation and development in the region and around the world.
The RoK is one of Viet Nam's leading partners, ranking first in terms of investment in the Southeast Asian country and second concerning the provision of official development assistance (ODA) as well as tourism and trade cooperation.
Two-way trade reached US$61.5 billion in 2017, up 41.29% annually, with Viet Nam having exported US$14.8 billion worth of commodities to the RoK (up 29.96%) and importing US$46.7 billion worth of goods (up 48.4%) from the country. The bilateral trade revenues were reported at US$9.6 billion in the first two months of 2018.
Over recent years, the RoK has emerged as one of the key markets providing tourists for Viet Nam. Last year, the RoK arrivals to Viet Nam reached more than 2.5 million, representing a year-on-year increase of 128%.
On the occasion, Deputy PM Minh expressed his belief that with a profound understanding of Viet Nam as well as his sentiments for the country, the ROK ambassador would continue to effectively contribute to consolidating the Viet Nam-RoK ties and cooperation in his future positions.
For his part, Ambassador Lee Hyuk stated there remains room for the further enhancement of bilateral relations, stressing that the mutual visits made by the two sides' leaders over the past years have helped to strengthen the foundation for bilateral ties, especially in the field of economy.
He pledged to do his utmost to further boost the relations between the RoK and ASEAN, as well as between the RoK and Viet Nam, as he assumes the position as the Secretary-General of the ASEAN-RoK Centre.
By Vien Nhu