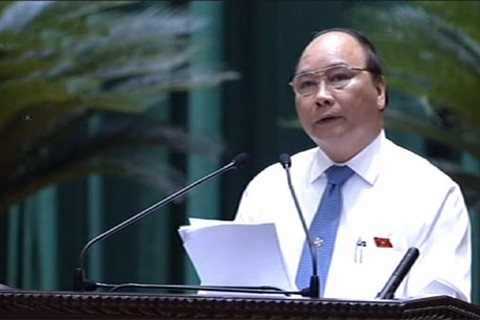 Deputy PM Nguyen Xuan Phuc - Photo: VGP
Regarding the socio-economic development situation in the first five months of the year, the Deputy PM revealed that the macro-economy has stabilized. The Consumer Price Index (CPI) over the past five months increased 1.08%, lowest in the recent 10 years. The inflation is expected to stand around 5%. The export turnover in five months rose 15.4%, resulting in a trade surplus of US$1.65 billion.
The total State budget revenue over the past five months accounted 45.8% of the yearly plan, a year-on-year increase of 16.9%. Foreign direct investment disbursed reached US$4.6 billion.
The Index of Industrial Production (IIP) increased 5.6% over the past five months and the total retails and services revenues rose 11%.
Nearly 620,000 new jobs have been created in five months, up 3%. More than 45,000 laborers were sent to work abroad, up nearly 40%.
The Government has directed ministries, agencies, localities and businesses to strengthen cooperation in realizing effectively missions and proposals as well as strive to fulfill socio-economic development goals in 2014 set by the NA.
For the East Sea situation, Deputy PM Nguyen Xuan Phuc stressed that since May 1st 2014, China brazenly moved its deep-water drilling rig escorted by armed and military vessels and many airplanes to the Vietnamese waters and installed the rig into the Vietnamese continental shelf and exclusive economic zone prescribed by the 1982 United Nations Convention on the Law of the Sea (1982 UNCLOS).
Viet Nam has launched a number of peaceful measures to urge China to withdraw its drilling rig Haiyang Shiyou 981 out of Viet Nam's waters and demanded China respect international law and Viet Nam's sovereignty.
The whole Party, people and army are determined to protect Viet Nam's independence, self-reliance, sovereignty and territorial integrity while striving to maintain a peaceful environment for national development, the Deputy PM affirmed.
Deputy PM Phuc initiated that the Government is directing relevant ministries and agencies to actively establish short and long-term plans, closely follow the situations to apply suitable solutions in fields of trading, direct investment and tourism.
The Deputy PM required mobilizing resources and proposing preferential policies for forces on duty at sea, support fishermen and economic activities at sea as well as enhance the effectiveness of the cooperation between executive forces and fishermen.
Viet Nam still expects to promote cooperation with China in terms of economics, trade, investment and tourism, both bilateral and multi-lateral cooperation for the sake of each nation's benefits.
In this context, the nation has to boost up the economic restructure in accordance with the effective implementation of strategic breakthroughs, increase competitiveness, accelerate international integration in association with the establishment of an independent economy, expand and seek for new markets, as well as create foundation for sustainable development.
By Thuy Dung