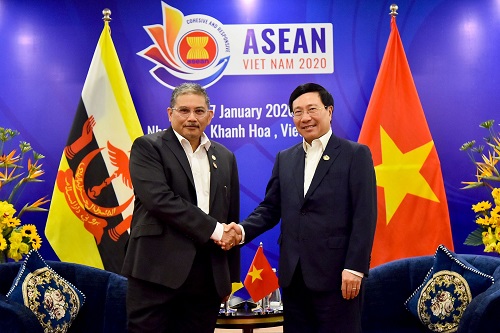 Deputy Prime Minister, Minister of Foreign Affairs Pham Binh Minh (R) meets Minister of Foreign Affairs II of Brunei Darussalam Dato Erywan Pehin Yusof in Nha Trang City, Khanh Hoa Province, January 17, 2020 - Photo: VGP/Hai Minh
Both sides stressed the need to strengthen intra-bloc solidarity and unity, and enhance the bloc's resilience and central role for peace, security and prosperity in the region amidst the complicated developments in the world and consequences caused by the Covid-19 pandemic.
Mr. Dato Erywan Pehin Yusof congratulated Viet Nam on its successful organization of the ASEAN Chairmanship 2020.
Under the theme "We Care, We Prepare, We Prosper" of Brunei Darussalam's upcoming ASEAN Chairmanship 2021, the Brunei Minister referred to some orientations and priorities, including the implementation of initiatives in response to Covid-19 and post-coronavirus recovery period which were adopted in 2020.
He took the occasion to highlight the importance of building the ASEAN Community's Post-2025 Vision, enhancing multi-lateral cooperation and rules-based regional order and setting up people-centered initiatives.
These priorities and initiatives will be established on the basis of the achievements that ASEAN reached in previous years, particularly under the Chair of Viet Nam in 2020, the Brunei's diplomat confirmed.
Deputy PM Pham Binh Minh will attend ASEAN Foreign Ministers' Retreat, which will be held virtually on January 21, at the invitation of Second Minister of Foreign Affairs of Brunei Darussalam Dato Erywan Pehin Yusof.
The retreat is the first meeting of ASEAN Foreign Ministers in 2021 hosted by Brunei as the current ASEAN Chair.
By Thuy Dung