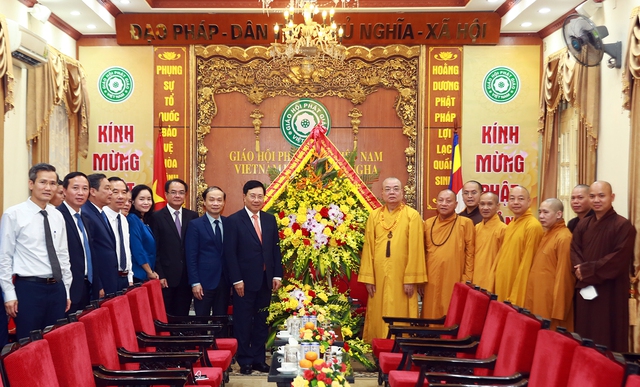 So far, Viet Nam has hosted the UN Day of Vesak for three times in 2008, 2014, and 2019. The successful organization of these events helped promote the role of Viet Nam's Buddhism in the wold's Buddhism and the image of Viet Nam in the eyes of international friends, said Pham.

Especially, over the past two years, religions in general and Buddhism have standed side by side with the Party and State in containing the COVID-19 pandemic and reopening phase, the Governmental leader added.
He was convinced that the Viet Nam Buddhist Sangha will successfully organize the 9th Viet Nam Buddhist Congress with the motto "Dharma - Nation - Socialism" and continue to make great contributions to the construction and development of the country.
The UN recognised that the Day of Vesak, which falls on the day of the full moon in the month of May each year, is the most sacred day to Buddhists around the world as it commemorates the birth of the Buddha, his attainment of enlightenment and his passing away.
Vesak Day is an important foreign event for Viet Nam that contributes to enhancing the role of the Viet Nam Buddhist Sangha in international integration as well as to asserting the position and responsibility of Viet Nam within the UN./.