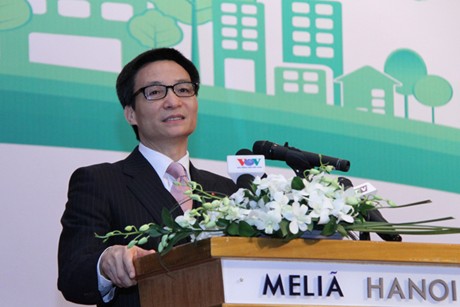 DPM Vu Duc Dam makes the statement at the Viet Nam Business Forum on Sustainable Development held in Ha Noi on February 21, 2014
Numerous measures have been taken to restructure the economy and make the country participate actively in negotiations for agreements on promoting trade and investment to boost economic development, said Deputy PM Dam.
However, shortcomings in macroeconomic policies and business management should be addressed and overcome to help businesses save time and expenses and grasp opportunities, he added.
The Government official also mentioned resources which should be motivated by specified policies to help businesses to use the resources effectively and bring as many interests to the society as possible.
The forum attracted hundreds of local and international businesses and received their experience sharing in establishing and managing their businesses sustainably, particularly in the social business model.
According to Marrie Magimay, Director of business resources of the Social Enterprise UK, sustainable development could address main challenges facing the current and future society.
Livelihood improvement, environmental protection and climate change response are attached to businesses' sustainable development and operation.
Gary Schuzt, CEO of the Holcim Viet Nam Ltd. affirmed that sustainable development has gradually become a 'license' for production as consumers consider the matter while selecting a product.
Facing economic difficulties, Vietnamese businesses should promote their strengths to withstand, maintain and boost their production and trade while seeking new directions and taking advantage of opportunities brought by the global sustainable development, said Vu Tien Loc, President of the Viet Nam Chamber of Commerce and Industry.
By Ngoc Van