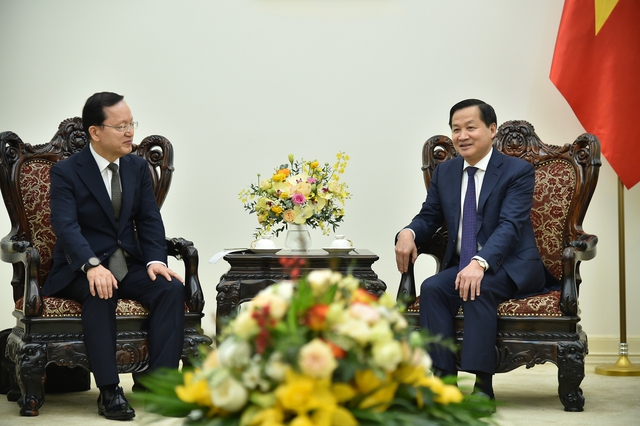 Le highly appraised Samsung's inauguration of Southeast Asia's largest R&D center in Ha Noi in December 2022.
Viet Nam is prioritizing the attraction of projects with high technologies, innovation and widespread effects, he said, adding that the Vietnamese Government always creates optimal conditions for foreign investors to operate in the country in a long term.
The Deputy Prime Minister suggested that the Korean tech giant expand its investment in Viet Nam to tap opportunities from the sound partnership between the two countries in all fields.
The Vietnamese Government and the administrations of localities that Samsung bases will always listen to the firm's opinions and offer best support, he stated.
For his part, Park underscored that Viet Nam is the most important production hub of Samsung in the world, adding that Samsung made a wise decision to build its factory in Thai Nguyen.
The Vietnamese Government has provided great support for Samsung to effectively operate in the country over the years, he said, stressing that Samsung has called on its subsidiaries to continue to invest in Viet Nam.
Park raised proposals to the Deputy Prime Minister regarding the application of global minimum corporate income tax./.