Deputy PM Trương Vĩnh Trọng made the statement at the 40th anniversary of the Việt Nam National Hospital of Pediatrics (VNHP) on Sunday.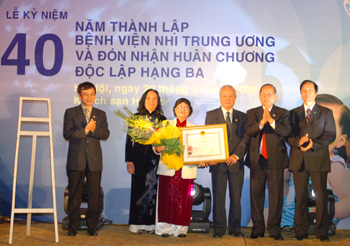 Deputy PM Trương Vĩnh Trọng confers the 3rd-grade Independence Medal to the Việt Nam National Hospital of Pediatrics at the Institution's 40th anniversary, Hà Nội, November 29, 2009 - Photo: VGP

During 40 years of development, the VNHP has made great contributions to the development the nationwide pediatric system, helped lower-level hospitals to better their healthcare services, and reduced the child malnutrition rate to 20% from 50% in the 1980s.

The hospital gives medical checkups to some 500,000 children and treatment to over 60,000 children each year. Its researches have contributed to the decrease of child mortality from 11.7% in 1989 down to 1.3% in 2008 and infant mortality from 43.3% down to 9.6% in the same period.

Especially, the VNHP is the pioneer clinic which conducts cardiovascular diseases for children. So far, it has successfully treated over 3,000 children with congenital heart diseases.

On the occasion of its establishment anniversary, the Hospital was awarded by the State with a 3rd-grade Independence Medal.