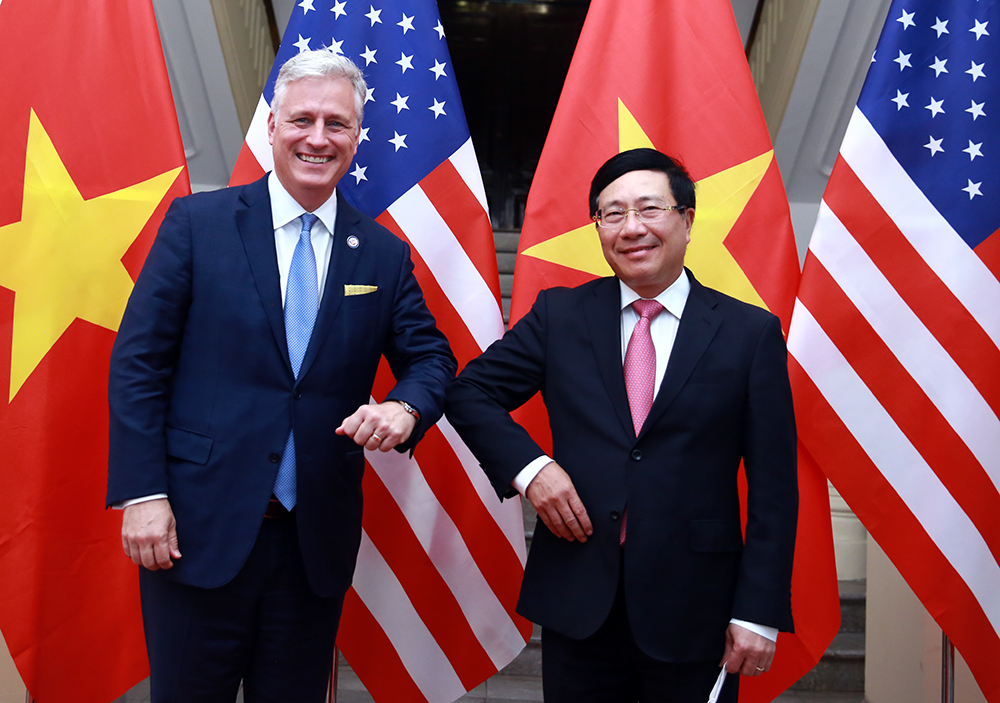 Deputy Prime Minister, Foreign Minister Pham Binh Minh (right) welcomes U.S. National Security Adviser Robert O'Brien at the headquarters of the Vietnamese Ministry of Foreign Affairs, Ha Noi, November 21, 2020. Photo: VGP
Both Minh and O'Brien welcomed the joint efforts to organize various activities to mark the 25th anniversary of the establishment of diplomatic relations between Viet Nam and the U.S. in a flexible manner despite the COVID-19 pandemic.
They shared the view that the Viet Nam-US comprehensive partnership has advanced robustly and comprehensively across fields and agreed to further deepen the bilateral ties on the basis of respect for each other's independence, sovereignty, territorial integrity, political system and mutual benefits.
Minh took the occasion to appreciate U.S. National Security Adviser Robert O'Brien, Trade Representative Robert Lighthizer, and Secretary of State Michael Richard Pompeo being attentive and acknowledging the concerns of the two sides' business communities throughout the process undertaken by the Office of the U.S. Trade Representative to investigate Viet Nam's monetary policy and timber materials in accordance with Article 301 of the Trade Act of 1974.
The U.S. National Security Adviser spoke highly of Vietnamese ministries and agencies' collaboration with the American side in the investigation process over the past time, saying that active dialogues between the two countries have contributed to beefing up stable trade exchanges, thus bringing practical benefits to the businesses and consumers of the two countries./.
This is the fourth high-level phone conversations between Viet Nam and the U.S. over the past month./.
By Quang Minh
Follow us on Twitter @VNGovtPortal and Facebook page @VNGov