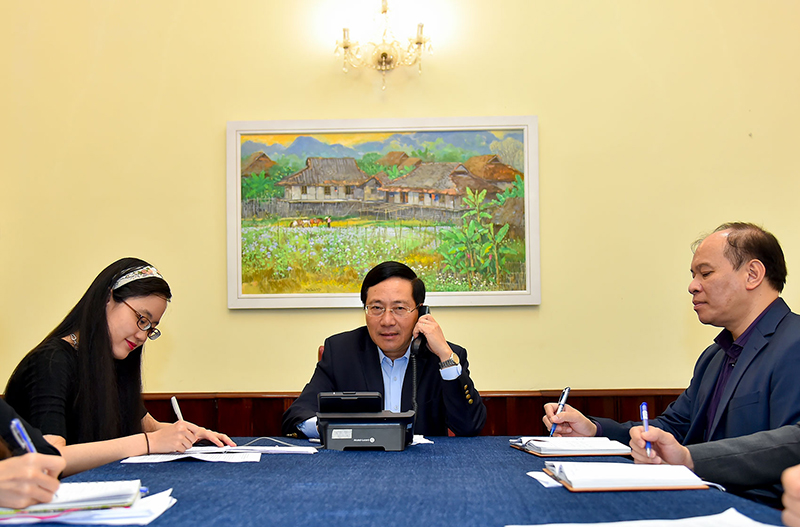 Deputy Prime Minister, Foreign Minister Pham Binh Minh holds phone talks with the Republic of Korea's Foreign Minister Kang Kyung-wha on February 28, 2020. Photo: VGP
>>> VN suspends visa-waiver program to South Korea in wake of COVID-19 epidemic
During the conversation, the pair discussed bilateral cooperation between the two countries and the fight against the COVID-19 epidemic.
Minh said the Viet Nam had informed South Korea before making the latest decision on temporary suspension of unilateral visa exemption for nationals of South Korea, which will take effective on February 29.
The suspension of the visa-waiver program is part of the Vietnamese Government's measures to strengthen containment of the spread of the COVID-19 epidemic.
Under the decision, Koreans holding ordinary passports with valid Vietnamese visa are allowed to enter Viet Nam, said Deputy PM, FM Minh.
He suggested the Republic of Korea coordinate closely with Viet Nam in the fight against the epidemic and support nationals and businesses in respective countries.
Minh also expected that both countries will still maintain economic and trade cooperation.
Meanwhile, Kang briefed about the Korean Government's efforts to cope with the COVID-19 epidemic.
The Republic of Korea will provide free health care for Vietnamese nationals in the nation in accordance with the World Health Organization's standards, Kang said./.
By Hoang Ha