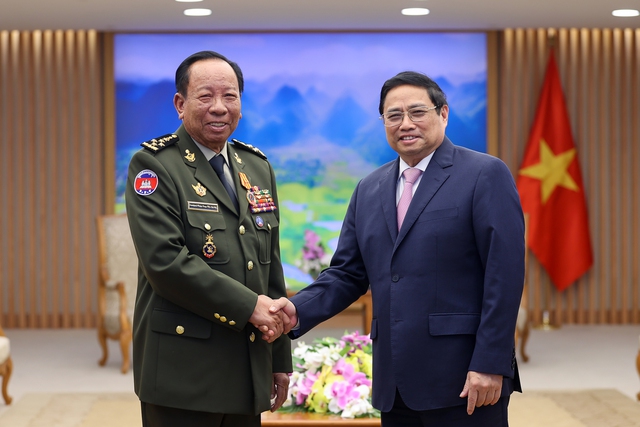 Pham made the above statement at his reception for General Tea Banh, Cambodian Deputy Prime Minister and Minister of National Defense in Ha Noi on Sunday.

He welcomed the two defense ministries' coordination in carrying out more than 30 meaningful activities to mark the Viet Nam-Cambodia Friendship Year 2022.
Pham suggested the two ministries and armies continue close coordination in effectively realizing the common perceptions of the two countries' senior leaders, while strengthening collaboration at multilateral forums and in a wide range of areas such as digital transformation, bomb and mine clearance, and economic development, thus contributing to maintaining independence, sovereignty, territorial integrity and stability conducive to national development in respective countries.
He also asked the border guard forces of the two countries to step up exchanges, joint patrols to protect the borderline and border markers and prevent cross-border crime in a bid to build the shared borderline of peace, friendship, cooperation and development.
Viet Nam always attaches importance and gives high priority to reinforcing and promoting the sound neighborliness, traditional friendship, comprehensive, sustainable and long-term cooperation with Cambodia, reassured the Prime Minister.
He took the occasion to congratulate Cambodia on its recent achievements, especially in successful management of the COVID-19 pandemic, socio-economic development, and the success of the communal elections last June, and the successful performance of the role as the ASEAN Chair in 2022.
Pham expressed his belief that Cambodia will successfully organize the general elections in 2023 and gain greater achievements in the time to come in order to further raise its position and role on the international arena.
He pledged to support and assist Cambodia in hosting important events this year, including the 32nd Southeast Asian Games (SEA Games 32) and Para Games.
For his part, General Tea Banh highly valued the development of the two countries' ties over the past more than half a century despite challenges and difficulties.
Cambodia attaches great importance to the relationship with Viet Nam and thanks Viet Nam for the great solidarity and support for his country during its fight to overthrow the Pol Pot genocidal regime in the past and for the current national construction and development, affirmed Tea Banh.
He also affirmed that the army and the defense ministry of Cambodia would actively implement the high-level agreements of the two countries' leaders, and he himself would strive to strengthen the sound neighborliness, traditional friendship, comprehensive, sustainable and long-term cooperation between the two countries and two armies./.