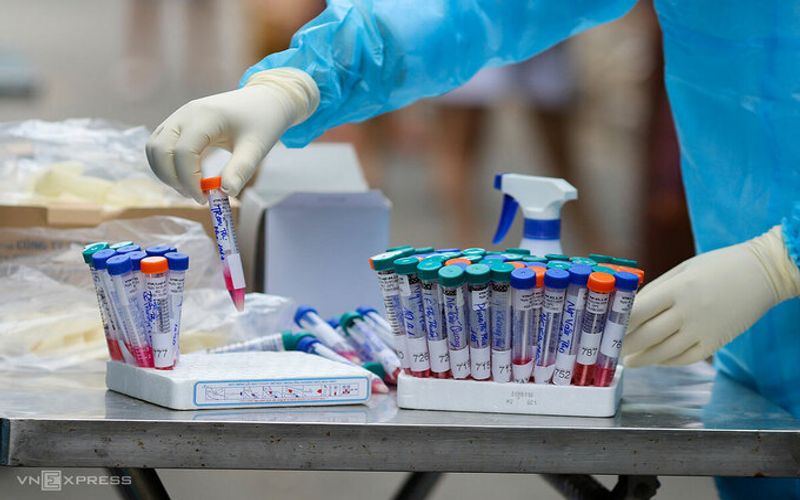 Health workers gather samples in residential areas on August 3, 2020. Photo: Nguyen Dong/VnExpress
Deputy Minister of Health Tran Van Thuan said the capacity could be five or ten times higher in case of pool testing which means combining respiratory samples from five or ten people in one laboratory test to detect SARS-CoV-2 that causes COVID-19.
Currently there are three categories of testing, namely PCR testing which involves in taking nasal pharyngeal swab or a pharyngeal swab, antigen testing to identify one of the outer proteins of the viral shell or envelope, and antibody test to see whether an individual has mounted an immune response or developed immunity towards COVID-19, Tran said.
The ministry has issued specific guidelines for each category of testing for different scenarios, including the scenario of having 30,000 infection cases, he added.
The nation has set up 175 laboratories nationwide, of which 125 are capable of conducting confirmatory tests, said Nguyen Minh Hang, Deputy Director-General of the ministry's Department of Preventive Medicine.
The ministry said 100 hospitals have equipped with laboratories and the figure will further increase as it has required that a hospital with 300 beds and more shall have to install a confirmatory laboratory.
Strong testing capability is an essential tool for addressing the challenges presented by this pandemic and for protecting communities", said Dr. Kidong Park, WHO Representative in Viet Nam.
Since the fourth wave of local transmission broke out in late last month, nearly 310,000 samples, detecting 664 positive cases in 26 out of 63 cities and provinces nationwide, Nguyen said.
As of Thursday noon, the national patient tally rose to 3,679, including 2,618 recoveries and 35 fatalities./.
By Kim Anh