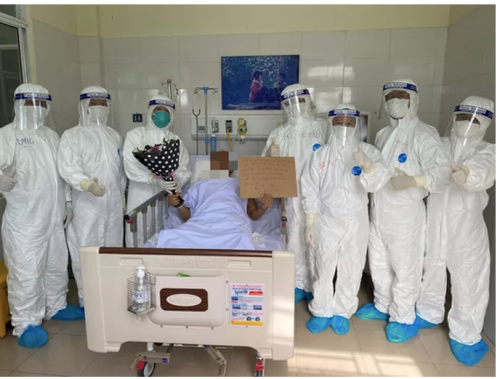 A critically-ill COVID-19 patient (patient 582) in Da Nang City is given all-clear of the virus.
The patient was admitted to hospital on July 31 with chronic diseases of hypertension, heart failure and vessel ischemic.
After two days of treatment, he suffered from serve lung damage. On August 2, he was connected with ECMO and received continuous blood transfusion and dialysis.
On August 5, he was disconnected with ECMO but still received continuous blood transfusion and dialysis.
He was tested negative for the virus for five times and has been transferred to a separate area for medical monitoring.
It is the first time a COVID-19 patient in Viet Nam has a baby.
On August 15, a 35-year old woman being treated for COVID-19 in Da Nang (patient 569) gave birth to a healthy baby girl.
The baby was born at Hoa Vang Medical Facility weighing three kilograms. Doctors had to perform a C-section. The child is currently incubated, but doctors say both the baby and her mother are in good health.
The mother was tested positive for the novel coronavirus and became the country's patient 569 on August 1, when she was 35 weeks pregnant.
At present, she is among Viet Nam's two pregnant women who are infected with COVID-19. The other woman is patient 495, who is 13 weeks pregnant./.
By Thuy Dung