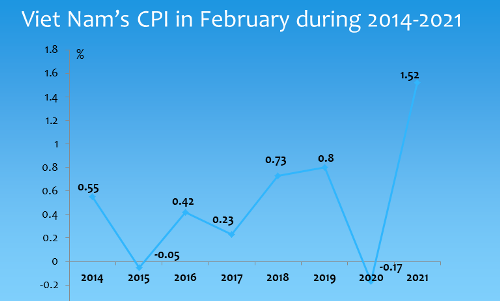 The Consumer Price Index in February rises 1.52% against the previous month, the highest figure recorded over the last eight years.
The CPI in February increased by 1.58% in comparison with December 2020 while the average CPI of the recent two months witnessed a year-on-year decrease of 0.14%.
Ten categories of commodities experiencing price increases included housing and building materials (up 4%), restaurants and food services (up 1.61%), transport (up 1.55%), beverage and tobacco (up 0.9%), household equipment (up 0.2%), culture, entertainment and tourism (up 0.13%), post and telecommunications (up 0.03%), medicines and health service (up 0.01%) and other services and commodities (up 0.74%).
Meanwhile, the price of education remained unchanged./.
By Thuy Dung