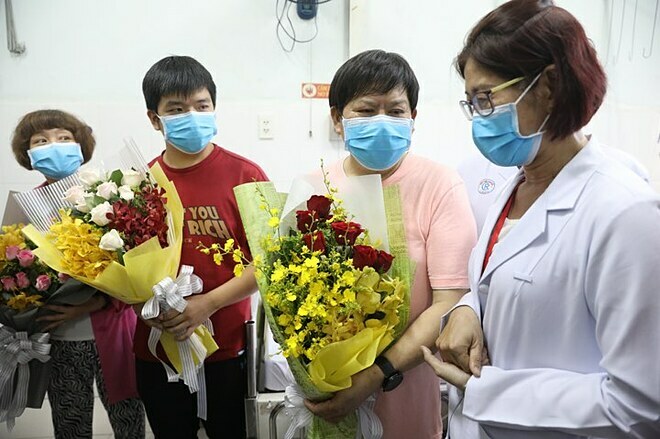 Li Ding (3rd from lefft) and his wife and son before leaving the Cho Ray Hopspital in Ho Chi Minh City on February 12, 2020.
>>> Vinh Phuc sets up more checkpoints to contain Covid-19
Earlier on February 4, Li's son, Li Zichao, had been cleared of the virus and discharged from Cho Ray Hospital in Ho Chi Minh city after 14-day treatment.
Both of them are the first two positive cases confirmed in Viet Nam since the Wuhan virus outbreak in China.
Li Ding arrived in Ha Noi on January 13 from Wuhan, China and then travelled to the central coastal city of Nha Trang while his son had been in the Mekong Delta province of Long An for four months and came to Nha Trang to meet his father. They then moved to Ho Chi Minh City and Long An.
On January 17, the father suffered fever and three days latter, the son had similar symptoms. They were hospitalized on January 22 and tested positive for the Covid-19.
So far, Viet Nam has confirmed 15 infection cases in four provinces and city and seven of them have been cured and left hospitals.
The northern province of Vinh Phuc has been hit hardest with 10 patients, followed by Ho Chi Minh City (3), Khanh Hoa (1), and Thanh Hoa (1), according to the Ministry of Health.
In addition, the health sector has isolated and closely monitored 97 people suspected of having the virus and 602 others due to close contact with the suspected ones. None of them have shown symptoms like fever or coughing, the ministry said./.
By Thuy Dung