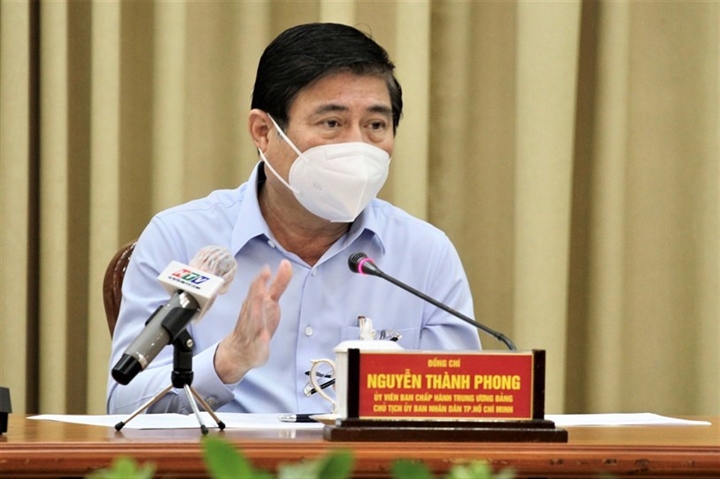 Chairman of the HCMC Municipal People's Committee Nguyen Thanh Phong
The southern metropolis has been placed under social distancing in accordance with the Prime Minister's Directive No. 15 from May 31 to July 8.
From July 9 to August 1, stricter social distancing rules have been imposed in the entire city in accordance with the Prime Minister's Directive No. 16.
The city is now the epicenter of the current COVID-19 wave with 84,500 infection cases, accounting for over 63 percent of Viet Nam's national caseload. Of the city's COVID-19 tally, 28,320 have recovered and exited hospitals.
In a bid to contain the pandemic, it has set up more than 2,200 teams to collect test samples, 13 city-level quarantine camps, 345 district-level quarantine sites, and allowed 194 hotels as designated as quarantine camps.
At present, 12,380 people are being kept at centralized quarantine facilities and 37,800 others isolating themselves at home.
The city also established 38 COVID-19 treatment facilities with 46,000 beds and mobilized four private hospitals with 375 beds to join treatment efforts.
Regarding vaccination, around 1.3 million doses have been administered to the residents.
Nguyen said the city will take every measure to ensure strict enforcement of social distancing rules, especially from 6:00 am to 6:00 pm. Those who deliberately violate the rules will be strictly fined.
By the end of August, around 70 percent of the city's residents aged 18 and above is expected to get first jabs, according to the HCMC Center for Disease Control.
As of 6:00 on Friday, Viet Nam confirmed 133,405, of which 129,622 are locally-transmitted cases recorded in 62 cities and provinces since April 27./.
By Huong Giang