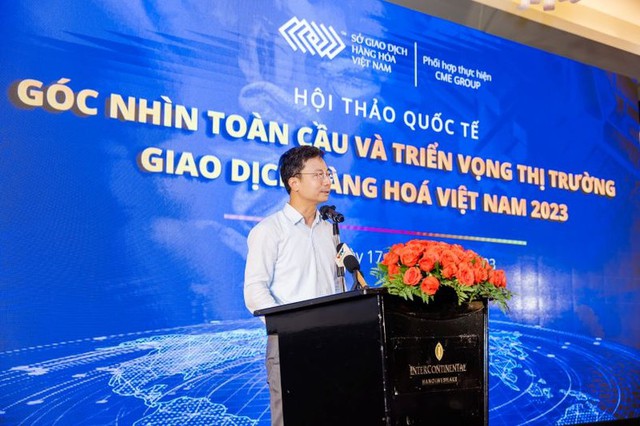 Director of the MOIT's domestic market department Tran Duy Dong stated that large commodity exchanges in the world highly evaluate the potential of the Vietnamese market and hope to cooperate with Viet Nam to make the Vietnamese commodity market the largest in the region.

Director of the MOIT's domestic market department Tran Duy Dong speaks at the event.
Dong was speaking at a conference jointly held on May 17 by the Mercantile Exchange of Viet Nam (MXV) and CME Group on the prospects of Viet Nam's commodity market in 2023.
Last year, Viet Nam was the largest exporter of Robusta coffee, the third largest exporter of rubber, the sixth largest importer of corn and the third largest importer of soya beans in the world.
Therefore, any change in Viet Nam's supply and demand will affect commodity prices listed in commodity exchanges around the world, emphasised experts from CME Group.
Since being connected to the world, Viet Nam's commodity market has seen significant development, with the total trading volume at the MXV in 2022 soaring by 36% from the previous year.
Currently, the MXV has been connected with most major exchanges in the world, such as the Chicago Mercantile Exchange, the London Metal Exchange, the Intercontinental Exchange, the Singapore Exchange, the Osaka Exchange and Bursa Malaysia Derivatives./.