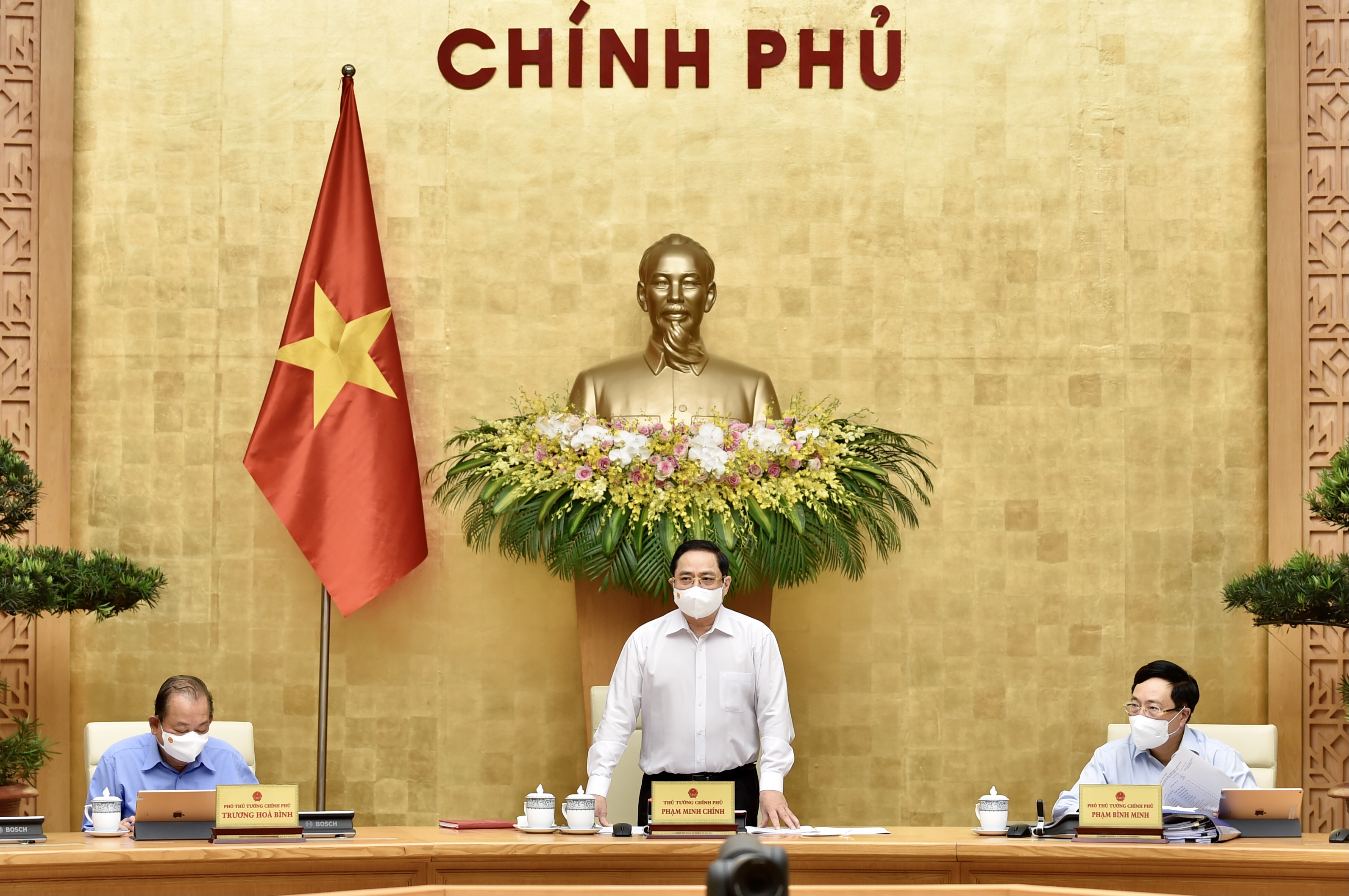 From left to right: Deputy Prime Minister Truong Hoa Binh, Prime Minister Pham Minh Chinh, and Deputy Prime Minister Pham Binh Minh at the Cabinet meeting, Ha Noi, May 5, 2021 - Photo: VGP
>>> India and UK variants behind new COVID-19 cases in Viet Nam
>>> Hai Duong extends mandatory quarantine period to 21 days
According to the General Statistics Office (GSO), Viet Nam's trade with the rest of the world hit 10-year high of US$206.51 billion, or a year-on-year increase of 29.5 percent, in the reviewed period.
Of the figure, export value rose by 28.3 percent to US$103.9 billion while import turnover soared by 30.8 percent to US$102.6 billion, resulting in a trade surplus of US$1.29 billion, the GSO reported.
The country's key export items include phones and spare parts (US$18.4 billion, accounting for 17.7% of the total export volume), electronics, computers and spare parts (US$15.9 billion), machinery and spare parts (US$12 billion), garment and textile (US$9.5 billion), and footwear (US$6.4 billion).
The U.S. remained Viet Nam's biggest importer, purchasing goods worth US$30.3 billion, up over 50% against the same period last year, followed by China (US$16.8 billion, up 32.4 percent), the EU (US$12.6 billion, up 18 percent), ASEAN (US$8.8 billion, up 13.3 percent), the Republic of Korea (US$6.9 billion, up 12.1 percent), and Japan (US$6.5 billion, up 1.5 percent).
Meanwhile, total retail sales of goods and services recorded a two-digit growth 10 percent to reach nearly VND1.7 quadrillion (US$73.5 billion).
The index of industrial production (IIP) was estimated to rise by 24.1 percent in April and 10 percent in the first four months, mainly driven by the expansion of manufacturing and processing (12.7 percent), electricity production and supply (6.6 percent), and water supply and waste and wastewater treatment (7.5 percent).
Regarding the COVID-19 situation, Viet Nam confirmed 38 community infection cases since April 27, raising the national patient tally to 2,996 as of 6:05 pm on Tuesday.
All the latest local cases were linked to those, both Vietnamese and foreign nationals, who tested positive for COVID-19 after undergoing 14-day mandatory quarantine period in Viet Nam, prompting the need to tighten management of quarantine sites and post-quarantine medical surveillance.
On Wednesday morning, Hai Duong – the epicenter of the country's third wave of local transmissions – became the first locality to impose 21-day mandatory quarantine for those who came in direct contact with COVID-19 patients./.
By Thuy Dung