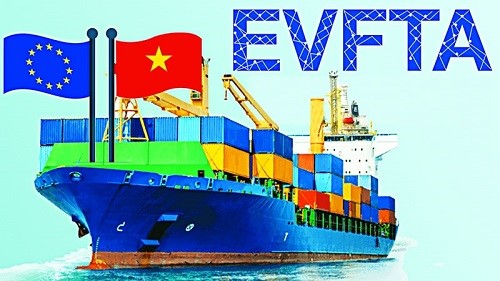 Illustration photo
In addition, exporters themselves made out origin declaration for nearly 3,585 consignments worth more than US$10.88 million.
The items granted C/Os of the EUR.1 form are mainly in relation to footwear, seafood, garments, farm products and electronics.
Viet Nam's goods exported to the EU market will be granted the certificate of origin (C/O) form EUR.1 to enjoy preferential tariffs reached under the EU-Viet Nam Free Trade Agreement (EVFTA), which has taken effect since August 1, 2020.
Vietnamese exporters are also allowed to continue using the Generalized Scheme Preferential (GSP) duties if these are more favorable up to two years following the upcoming entry into force of EVFTA (until August 1, 2022).
The EVFTA is an ambitious pact providing almost 99% of the elimination of customs duties between the EU and Viet Nam.
As per the Ministry of Planning and Investment (MPI), the EVFTA is expected to help increase Viet Nam's GDP by 4.6% and its exports to the EU by 42.7% by 2025. While the European Commission forecasted the EU's GDP to increase by US$29.5 billion by 2035.
Sixty five percent of duties on EU exports to Viet Nam will be eliminated while the remaining will be gradually phased out over a period of 10 years. 71% of duties will be eliminated on Viet Nam exports to the EU, with the remaining being eliminated over a period of seven years.
In the first three months of 2021, Viet Nam's merchandise exports to 27 countries in the EU recorded a strong growth of 18% (equivalent to an increase of US$ 1.5 billion) over the same period in 2020, reaching US$9.93 billion.
By Thuy Dung