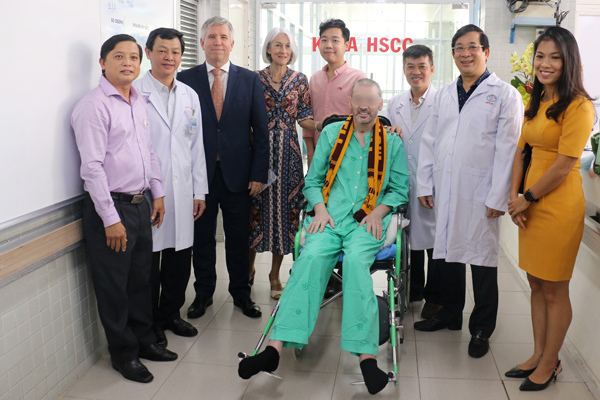 The British national exits Cho Ray Hospital in Ho Chi Minh City on July 11, 2020.
>>> One more foreign COVID-19 infection case confirmed, total rises to 370
He expressed thanks to the generosity of the Vietnamese people, dedication and professionalism of Vietnamese health workers for having taken care of and curing him. The pilot said he is happy to be going home and expects to return to Viet Nam soon.
As scheduled, at 7 pm on July 11, he will fly from Ho Chi Minh City to Ha Noi before departing the capital city at 11 pm.
The patient has undergone 115 days of treatment at both the National Hospital for Tropical Diseases and Cho Ray Hospital in Ho Chi Minh City.
Although he was declared free of COVID-19 on July 6 and no longer needs to stay in quarantine, he has been kept at the Cho Ray Hospital for physical therapy.
His recovery is a miraculous story after being comatose for more than two months and constantly dependent on ventilators. He suffered from cytokine storm syndrome, which happened when his immune system overreacted to the novel coronavirus attacking the body, releasing too many cytokines and damaging his organs.
Doctors had to put him on extracorporeal membrane oxygenation from April 6 to June 3 as fibrosis solidified most of his lungs.
On June 26, British Ambassador to Viet Nam Gareth Ward thanked Vietnamese doctors for saving the British pilot who was infected with COVID-19, during a visit to the Ho Chi Minh City Hospital of Tropical Diseases.
By Thuy Dung