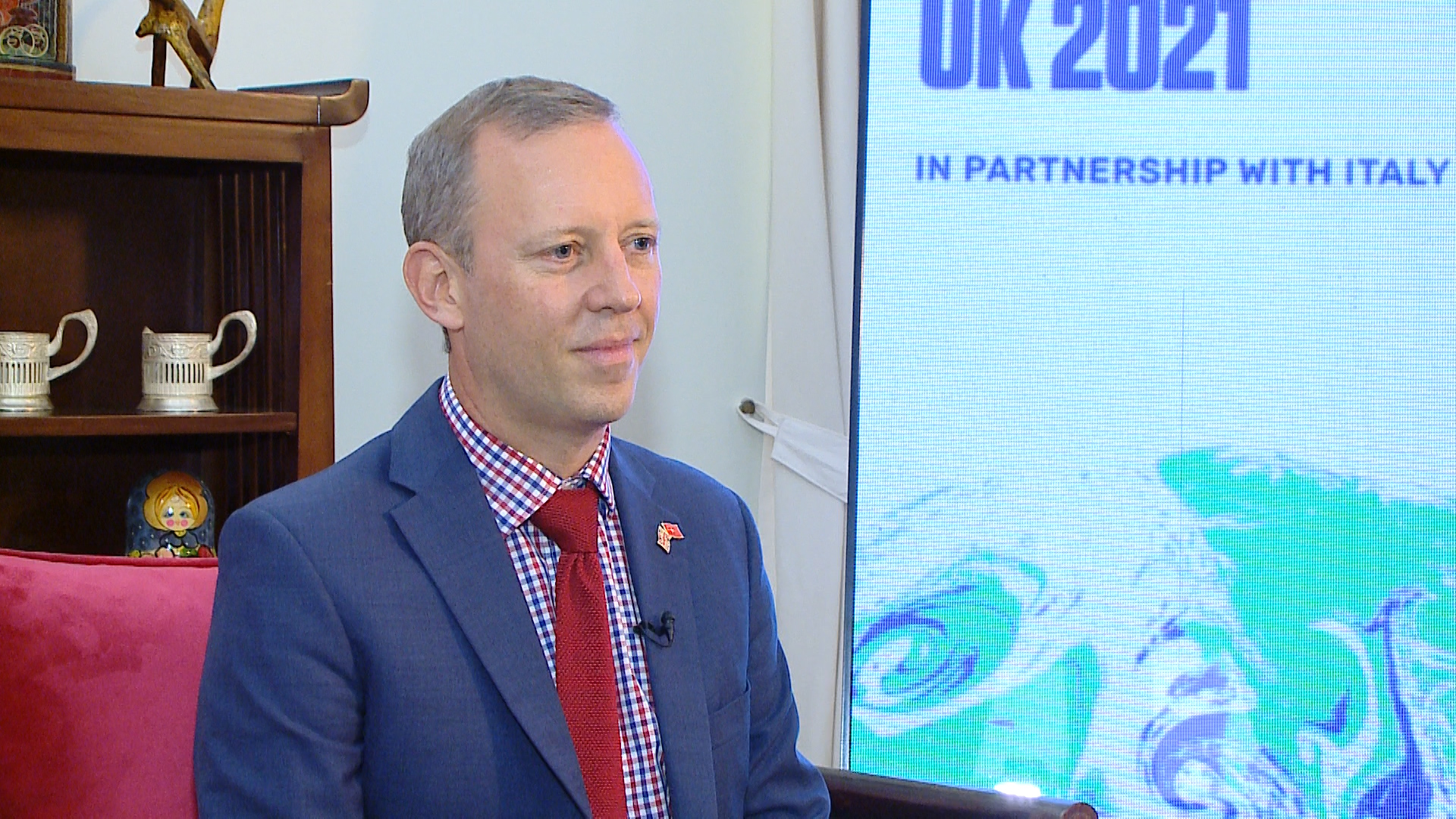 \British Ambassador to Viet Nam Gareth Ward - Photo: VGP/Thuy Dung
>>> Denmark pledges to support Viet Nam's 'going green' journey
British Ambassador to Viet Nam Gareth Ward made the above statement in a recent interview with the Viet Nam Government Portal ahead of Prime Minister Pham Minh Chinh's departure to Glasgow for the COP26 and his working visit to the UK from October 31 to November 3.
Gareth Ward highlighted three main objectives for the conference. The first is to increase commitment by countries to reduce their carbon emissions. The second is to work close together to help countries to adapt, especially those suffering from the effects of climate change. And the third element is to increase the amount of finance provided by developed countries for developing countries.
"We have to work together to stop the Earth from warming more than 1.5 degree compared to pre-industrial level. If we don't do this, we can have very serious consequences for people across the world including people in Viet Nam," said the British Ambassador.
The UK is very pleased that PM Pham Minh Chinh will be going with a big delegation of Vietnamese experts to participate in the conference, he added.
Last year Viet Nam increased the level of its ambition in terms of reducing carbon emission. But this year many countries around the world have been committing to net zero. That's a date by which the economy will be in balanced and that they will be emitting a neutral carbon footprint.
The diplomat hoped that Viet Nam will come forward with a date for net zero. So this sets a target for Governments, for businesses, for the societies to reduce their carbon footprint, expressing his confidence that Viet Nam would come forward with new ambitions and targets during the visit of the PM to COP26.
Regarding cooperation between the two nations in climate change adaption, Gareth Ward highlighted that both sides are working together to build housing in Central Viet Nam that can be resistant to flood so that people don't lose their houses during serious weather events.
Meanwhile, the UK is also working with farmers in the Central Highlands so they can change their agriculture practice and cope with different weather conditions for their crops.
"Equally and importantly, we're working together on energy. Viet Nam has huge potential in solar, wind, and hydro resources. These are renewable forms of energy that are clean. The UK is a world leader in offshore wind so we're sharing experience about how Viet Nam can develop an offshore wind sector", underscored the Ambassador.
Finally, both countries have promoted coordination as part of the global community to ensure that funding, which is provided by developed countries can reach projects and businesses can invest, said Gareth Ward.
Because ultimately, it's not just about government's acting. It's also about businesses' acting. When foreign companies invest in Viet Nam, they want to produce in a clean, green way. They want clean energy, and they want to use clean technologies to provide products for the world.
UK pleased to work with Viet Nam on health cooperation
The UK also welcomes Prime Minister Pham Minh Chinh for the working visit to the UK, said the diplomat, adding that there would be lots of commercial activities in the areas of health and vaccines, transport, aerospace and education. These are some of the sectors where the UK and Viet Nam have very good cooperation.
The UK-Viet Nam Free Trade Agreement was inked at the beginning of the year. There are even more opportunities for businesses to work together in trade, export and import. In addition, both sides have had the strategic partnership for 10 years and the UK has become a Dialogue Partner of the ASEAN.
Viet Nam received several high-level visits from the British Foreign Secretary and Defence Secretary. There has been the visit of Royal Navy Ship HMS Richmond, who visited Cam Ranh Port earlier this year to enhance cooperation in maritime security issues.
Equally importantly, both sides been able to push forward the agenda on global issues, affirmed Gareth Ward, adding that the UK has been very pleased to work with Viet Nam on health cooperation.
The UK has donated vaccines through the bilateral donation and via the UN COVAX Scheme to help Viet Nam to increase the vaccine rate as well as provided medical equipment to Viet Nam to help provide oxygen and other important treatment measures for COVID-19 patients in Viet Nam. The National Health System of the UK has cooperated with the Ministry of Health in Viet Nam to good practice.
"In the global pandemic, no one is safe until everyone is safe. We really want to help Viet Nam to speed up vaccination program, but also change the approach of response to make sure the treatment is effective and also help the health system cope", noted the Ambassador.
The UK has experienced in when the health system was overwhelmed and it needed to change and adapt. For instance, COVID patients can be treated very effectively at home, and only a small proportion of patients need to be brought to hospitals, the ones who are really ill. So that kind of flexible approach is experience the UK wants to share with Viet Nam so that Viet Nam can confidently move forward into the next phase.
The real element of combating the pandemic is through vaccines. The UK has been one of the global leaders in developing vaccines. The Oxford–AstraZeneca COVID‑19 vaccine has produced one of the most effective vaccines which is widely used in Viet Nam. So cooperation in vaccine and also on genomic sequencing-that's to make sure that new variants of the virus can be identified as it mutates, recommended Gareth Ward.
By Thuy Dung