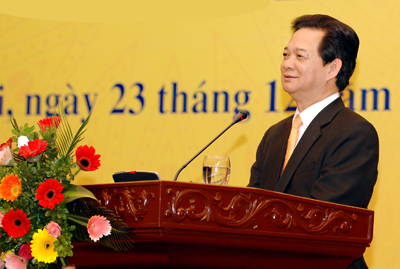 The State Bank of Việt Nam should moniotor fluctuations of the global economy. so as to issue and propose sound policies, says PM Nguyễn Tấn Dũng at the Banking Conference, Hà Nội, December 23, 2009 – Photo: VGP/Nhật Bắc
PM Nguyễn Tấn Dũng made the statement today in Hà Nội while attending the meeting on banking sector and its tasks in 2010.
In 2009, the SBV has regulated exchange rates and monetary policies in a flexible and proactive manner; timely and fruitfully adopted policies on interest subsidies; carried out synchronous solutions to spur production and export; and stabilize the foreign exchange market.
As of December 10, credit balance of interest subsidies reached over VND 445,000 billion. Compared to the previous year, the total means of payment, capital mobilization and outstanding credit in 2009 went up 28.67%, 28.7% and 37.73% respectively.
The banking system has operated promptly in favor of high economic growth, job generation and social welfare.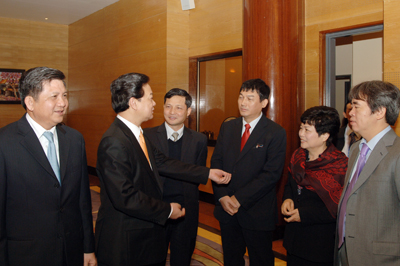 PM Nguyễn Tấn Dũng (2nd from left) exchanges views with delegates of the banking meeting, Hà Nội, December 23, 2009 – Photo: VGP/Nhật Bắc
Addressing the event, PM Nguyễn Tấn Dũng lauded the SBV and the banking sector for their efforts and determination to stabilize macro-economy and balance major accounts of the economy.
According to the Government chief, in 2010, the banking system, especially the SBV, will have to adopt flexible and proactive monetary policies to ensure economic growth and prevent inflation.
Top tasks of the banking sector in 2010
1. Completing two draft laws on the State Bank of Việt Nam and credit organizations
2. Adopting proactive, flexible and cautious exchange rates and monetary policies. Total means of payment instruments and outstanding credit are expected to surge around 25% against the end of 2009
3. Continuing to develop an integrated foreign exchange market and creating a comprehensive legal framework
4. Closely supervising and forecasting fluctuations of the national and international macro-economy, as well as financial and monetary markets
5. Increasing credits commensurate with macro-economic targets; fruitfully implementing credit subsidies in 2010; pouring investment in agriculture, rural development, production and business; providing preferential loans for social policy beneficiaries and residents in 62 poorest districts, remote and ethnic minority areas
6. Bettering efficiency and quality of banking investigation and supervision
7. Strengthening the performance of credit organizations and ensuring safety of the banking system
8. Realizing the Scheme on non-cash payment in the period of 2006-2010 and visions to 2020
9. Enhancing SBV's relations with foreign partners
10. Carrying out administrative reforms
11. Disseminating monetary and banking information
By Hương Giang