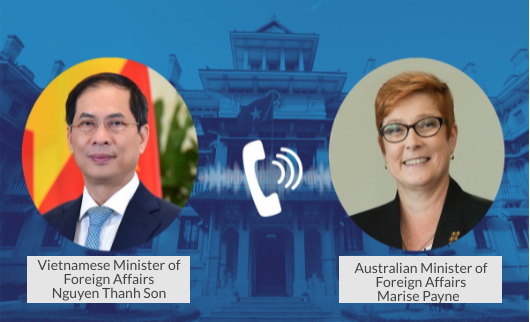 At the phone talks, the two FMs said they were pleased to witness the robust developments in the Viet Nam-Australia strategic partnership despite the COVID-19 pandemic.
Notably, the Vietnamese and Australian Prime Ministers maintained regular phone conversations and had a bilateral meeting on the sidelines of the COP-26 Summit in the UK last November.
In addition, both countries also signed two important cooperation documents namely the Enhanced Economic Engagement Strategy (EEES) and the Joint Statement on Commitment to Practical Climate Action.
Minister Bui expressed his gratitude to and spoke highly of Australia's announcement on additional donation of vaccines for Vietnamese kids besides the 7.8 million doses it had offered Viet Nam.

The Australian Government's upcoming vaccine donation is expected to assist Viet Nam in raising vaccination coverage in Viet Nam, he added.
The pair also praised the full reopening of borders by both countries, saying it would help facilitate the bilateral ties especially in exchanges of delegations and travel between the sides.
Last month, Australiam Ambassador to Viet Nam Robyn Mudie said that, Australia is a close friend and partner of Viet Nam and continues to unite in shared fight against COVID-19.
"Viet Nam has made tremendous progress with its COVID-19 vaccine rollout and I am proud that Australia could contribute towards this important work. It is critical to saving lives and boosting economic recovery", she noted.