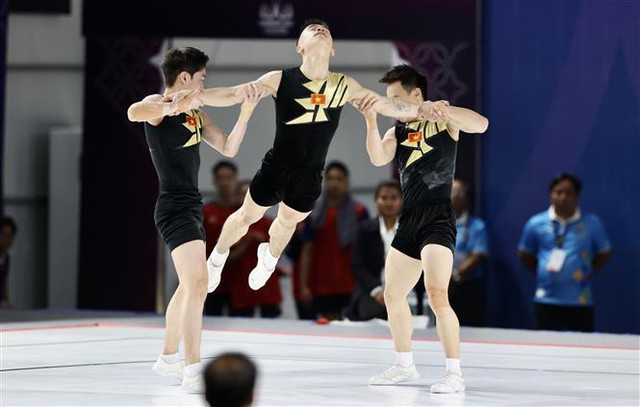 While aerobic team swept all three titles in their first day, the finswimmers pocketed five golds and set up three new Games records in their second day.

Coming to the Cambodian sport meet, Vietnamese aerobics was asked to have at least three golds and they completed the mission successfully.
Phan The Gia Hien won the first one on the men's individual event, scoring 19.450 points which was much higher than his runners up Chanokpon Jimsukjai of Thailand with 18.433 points and Cambodia Has Sokhor with 18.100.
Tran Ha Vi took the second one in the women's individual with 18.366 points. She also left Chawisa of Thailand and Charmaine Estaras Dolar of the Philippines far behind.
A group of Hoang Gia Bao, Le Hoang Phong and Nguyen Che Thanh completed the perfect day with the third gold in the trio event, winning 19.267 points. Thailand and Cambodia tried their best but could not catch up with them. They were second and third, respectively.
At the Morodok Techo National Stadium's Aquatic Centre, the finswimmers proved Viet Nam's power.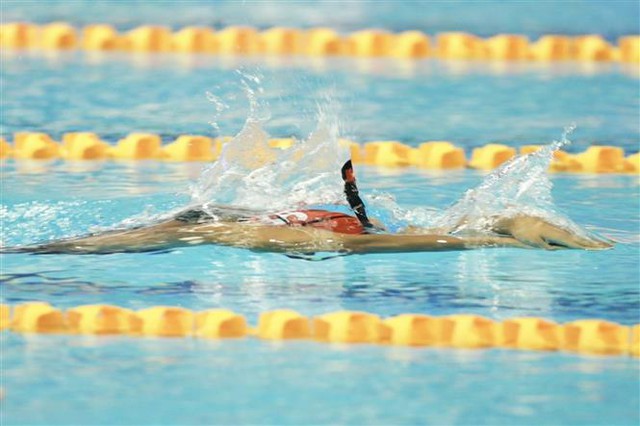 Kim Anh Kiet won and set a new record of 3min 6.71sec in the men's 400m surface. Nguyen Tran San San championed in the women's 400m surface in a record time of 3:25.05.
The women's team took their gold in the 4x100m surface relay, clocking 2: 43.56 which was new record.
Two other golds went to Vu Dang Nhat Nam in the men's 200m bi fins and the men's 4x100m surface relay.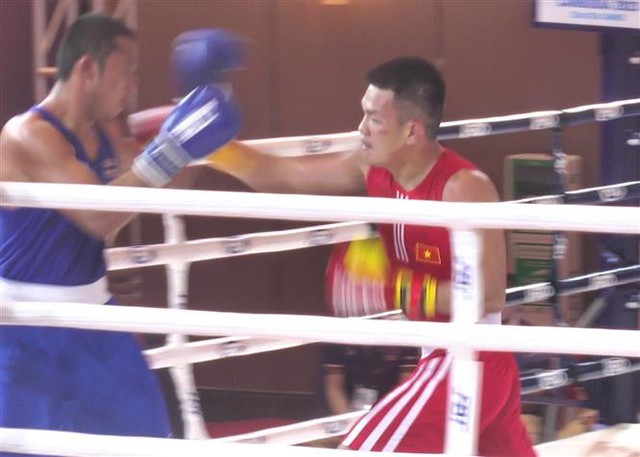 In boxing, Bui Phuoc Tung knocked out Atichai Phoemsap of Thailand to win gold in the men's 71kg class. Ha Thi Linh defeated Riza Legaspi Pasuit of the Philippines 5-0 to take title in the women's 63kg.
"I have watched my clip many times and still can't believe that I won," said Tung.
"I came to the SEA Games without a gold target. Earning a berth in the final was an unexpected result. Now, I have taken a KO victory. It is unbelievable, just can't explain my feeling," he said.
Meanwhile Linh shared that Tung's gold was a strong motivation for her. She asked herself to punch the best to take a title for Viet Nam.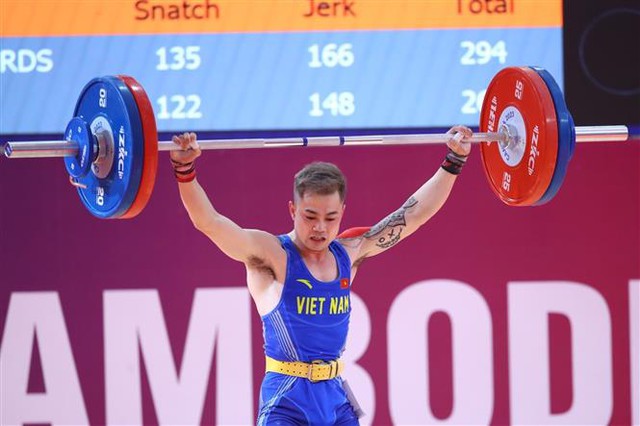 In weightlifting, Lai Gia Thanh met no difficulty to defend his title in the men's 55kg class.
The Asian champion lifted a total of 261kg to take his gold. Thada Somboon Uan from Thailand bagged silver with 248kg and Muhammad Husni of Indonesia earned bronze with 233kg.
In cycling, another Asian champion Nguyen Thi That topped the podium in the women's road race individual mass start event. She rode over 100.4 km in a time of 2hr 48.39min to defend her No 1 place.
Her arch-rival Jutatip Maleenphan of Thailand and Nur Aisyah Mohamad Zubir of Malaysia were second and third, respectively.
In traditional boat race, Viet Nam won two golds in the women's three crew and men's 12 crew events.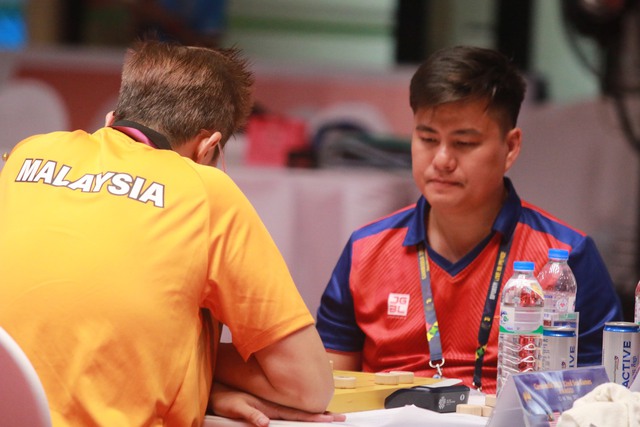 In Chinese chess, Lai Ly Huynh checkmated all other masters to win the men's individual standard event. His teammate Nguyen Thanh Bao came third. In the women's class, Le Thi Kim Loan earned a silver.
In judo, martial artists won golds in the men's kime no kata (self-defence performance) and women's juno kata (performance of gentleness).
In billiard, Le Thi Ngoc Hue beat teammate Phung Kien Tuong 50-17 in an all-Vietnamese final of the women's 1-cushion carom event.
It was the first time the women's 1-cushion carom was organised in a SEA Games and Hue became the first champion in history.
Vietnamese also grabbed silvers and bronzes in other sports such as golf, fencing, taekwondo and sepak takraw.
After eight days, Viet Nam dominated the 32nd Games with 87 golds, 79 silvers and 87 bronzes.
Thailand was second with 78 golds and Cambodia was third on 59./.