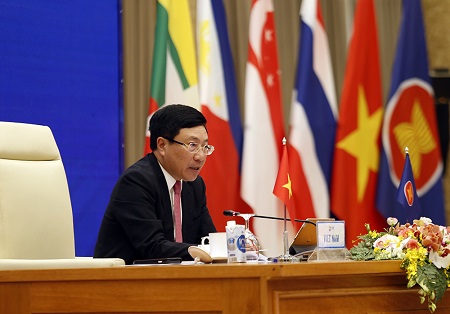 Deputy Prime Minister and Foreign Minister Pham Binh Minh chairs the virtual ASEAN Foreign Ministers' Meeting
The ministers expressed their delight at the new and pragmatic developments of the APSC despite a range of difficulties and challenges, as well as the adverse impact of the COVID-19 pandemic.
They highly valued the contributions of relevant agencies under the APSC, such as the ASEAN Defence Ministers' Meeting (ADMM) and the ASEAN Ministerial Meeting on Transnational Crime (AMMTC), to the fight against the disease in recent times.
The FMs said up to 98% of the APSC action plan has been completed, describing this as a hallmark in the ASEAN Community building.
However, more works need to be done in the near future, they said, urging the agencies under the APSC to further accelerate the implementation of the remaining action lines enshrined in the plan and take steps to renovate their operation methods.
The ministers stressed the significance of the ASEAN Outlook on the Indo-Pacific (AOIP) and the statement issued by ASEAN FMs on the occasion of the 53rd anniversary of the bloc (August 8, 1967-2020), underlining the necessity that the bloc needs to carry forward the principles stated in these important documents and work harder to materialize the commitments included in the documents.
Shortly after the APSC Council Meeting, ASEAN FMs convened the 28th ASEAN Coordinating Council (ACC) Meeting, during which 11 reports were adopted, including the report of the ACC and those from the ASEAN Secretary General and community pillars. These reports will be submitted to the upcoming 37th ASEAN Summit for comments.
The same day, Deputy Prime Minister and Foreign Minister Pham Binh Minh and ASEAN FMs attended a virtual signing ceremony of the instruments of accession to the Treaty of Amity and Cooperation in Southeast Asia (TAC) by Colombia, South Africa and Cuba.
Speaking at the event, Deputy PM Minh said the accession by Colombia, Cuba and South Africa to the TAC will further contribute to the reinforcement of the importance and relevance of the purpose and principles of the TAC, which encompass peaceful settlement of disputes and resolution of differences, renunciation of the threat or use of force and promotion of the rule of law to guide peaceful relations among States.
He expressed his hope that these three new signatories will commit themselves to these purposes and principles, strive further to strengthen cooperation with ASEAN and duly contribute to the promotion of peace and security in the region and beyond./.
By Vien Nhu
Follow us on Facebook page @VNGov