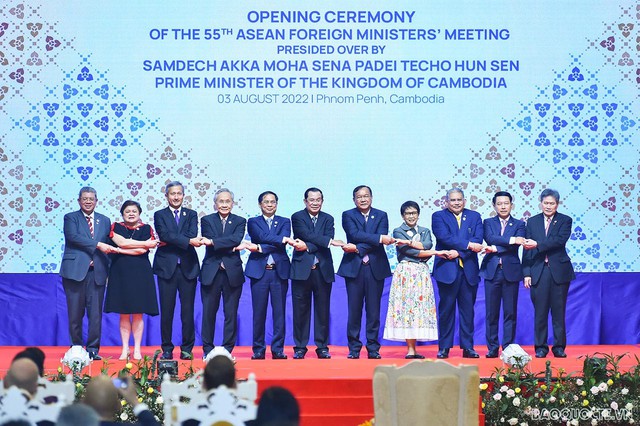 The foreign ministers underscored the importance of maintaining ASEAN's unity and centrality in the community-building efforts and engagement with external partners, in promoting peace, security and stability as well as in enhancing regional resilience in response to common and emerging challenges.

They reaffirmed their shared commitment to maintaining and promoting peace, security and stability in the region, as well as to the peaceful resolution of disputes, including full respect for legal and diplomatic processes, without resorting to the threat or use of force, in accordance with the universally recognized principles of international law, including the 1982 UN Convention on the Law of the Sea.
The ministers reaffirmed their belief that regionalism and multilateralism are important principles and frameworks of cooperation, and that their strength and value lie in their inclusivity, rules-based nature, and emphasis on mutual benefit and respect.
The ministers reaffirmed the importance of the Treaty of Amity and Cooperation in Southeast Asia (TAC) as the key code of conduct in governing inter-state relations in the region and as a foundation for maintaining regional peace and stability.
They welcomed the accession of the Kingdom of Denmark, the Hellenic Republic, the Kingdom of the Netherlands, the Sultanate of Oman, the State of Qatar, and the United Arab Emirates to the TAC and they also welcomed the growing interest of non-regional countries to accede to the TAC, on the basis of respect for and in conformity with the purposes and principles of the TAC.
The ministers looked forward to the adoption of the Plan of Action to Implement the ASEAN-EU Strategic Partnership (2023-2027), the Plan of Action to Implement the ASEAN-UK Dialogue Partnership (2022-2026), as well as the Annexes to the Plans of Action with Australia and China to guide the implementation of the respective Comprehensive Strategic Partnerships (CSPs).
The ministers welcomed the launch of negotiations to upgrade the ASEAN Trade in Goods Agreement (ATIGA), which underscores not only the region's aim of accelerating post-pandemic economic recovery but also to ensure that the ATIGA is transformed into a more modern, forward-looking Agreement, able to respond to regional and global challenges and contribute meaningfully to deeper economic integration among the ASEAN Member States.
There was significant recovery in ASEAN's economy, which expanded by 3.0 percent in 2021 compared to a 3.2 percent contraction in 2020. ASEAN's economic growth could further accelerate to 5.0 percent in 2022.
The region's total merchandise trade reached US$3.3 trillion in 2021, of which 21.3 percent was within the region, while services trade reached US$743 billion with intra-ASEAN comprising 11.7 percent.
Meanwhile, inflows of foreign direct investments to ASEAN totalled US$174.1 billion in 2021, 12 percent of which was among ASEAN Member States./.