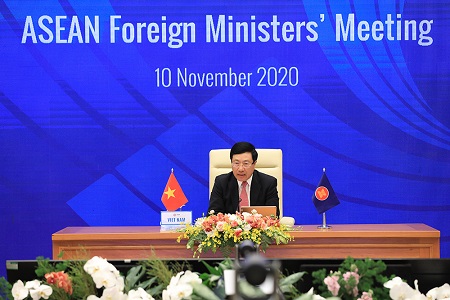 Deputy Prime Minister and Foreign Minister Pham Binh Minh chairs the virtual ASEAN Foreign Ministers' Meeting - Photo: VGP/Hai Minh
Politburo member Minh will also preside over the 22nd ASEAN Political-Security Community Council Meeting and the 28th ASEAN Coordinating Council Meeting.
On the same day, Minister of Industry and Trade Tran Tuan Anh chairs the 19th ASEAN Economic Community Council Meeting and the Regional Comprehensive Economic Partnership (RCEP) Economic Ministers' Meeting.
The 37th ASEAN Summit and related meetings are scheduled to be held via video conferencing from November 12 to 15.
During the ASEAN Summit and summits with partners, the leaders will focus on discussing four major issues, including accelerating the building of the ASEAN Community, maintaining intra-bloc cooperation momentum, and overcoming difficulties and challenges; expanding and deepening relations between ASEAN and partners, promoting ASEAN's central role in the region, and improving the bloc's international position; effectively controlling and gradually pushing back the COVID-19 pandemic, actively addressing the disease consequences, and promoting recovery; and discussing international and regional issues of mutual concern.
Regarding the documents of the conferences, leaders are expected to adopt and announce more than 80 documents, a record number thus far.
Some important documents will be Viet Nam's proposals supported by ASEAN member states and partners, such as the Ha Noi Declaration on a post-2025 ASEAN Vision, the Ha Noi Declaration on strengthening social affairs towards a cohesive and responsive ASEAN Community, the ASEAN 3 Leaders' Statement on enhancing economic-financial self-reliance against emerging challenges, the East Asia Summit (EAS) Leaders' Statement celebrating the 15th anniversary of the EAS, and the EAS Declaration on sustainable maritime cooperation./.
By Vien Nhu