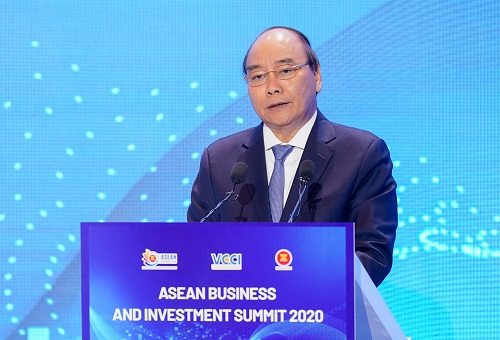 Prime Minister Nguyen Xuan Phuc speaks the ASEAN Business and Investment Summit 2020, Ha Noi, October 13, 2020. Photo: VGP
The two-day event is held virtually by the Viet Nam Chamber of Commerce and Industry (VCCI), the ASEAN Business Advisory Council (ASEAN BAC) and relevant units, within the framework of the 37th ASEAN Summit and related meetings.
The conference has brought together the leaders of ASEAN member states, partners and a large number of businesses in the region, demonstrating the spirit of cooperation of countries' governments and the private sector in joining hands to develop a prosperous ASEAN region.
In his opening remarks, Prime Minister Nguyen Xuan Phuc emphasized the current COVID-19 pandemic has created an unprecedented challenge for people all over the world and the economy of countries. It has caused economic downturn, impeded world trade, disrupted supply chains, hindered people's travel, and forced many businesses to cease operations.
ASEAN is also not immune from these bad influences, he added.
However, PM Phuc affirmed that in such a difficult circumstance, ASEAN has demonstrated its self-reliance and cooperation in the spirit of "Cohesive and Responsive", effectively combating the disease and promoting economic recovery and development with an inclusive goal of ensuring people's health and life and creating favorable conditions for businesses to promote their proactivity and creativity in economic recovery and development.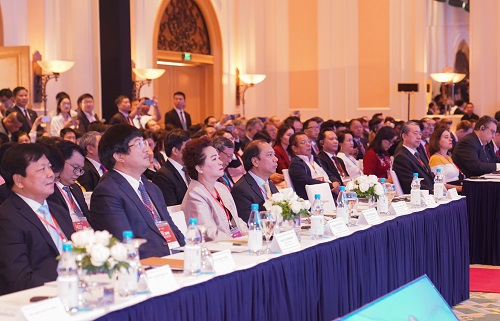 Participants to the ASEAN BIS 2020. Photo: VGP
He voiced his belief that ASEAN BIS 2020 would act as a bridge connecting leaders and policy makers with international organizations and leading enterprises in the region. The event will offer a platform to discuss and share experiences and best practices to open up opportunities for cooperation and development towards sustainability and inclusiveness.
Viet Nam is committed to cooperating with ASEAN's member states and its partners to continue pragmatic assistance programs for businesses in the region, especially in the areas of digital transformation; environment, society and governance (ESG); technology and employment future in the region; and sustainable and inclusive development, PM Phuc affirmed.
In addition, Viet Nam will push hard to realize the common goal of putting the people and businesses at the heart of development, while taking advantage of new opportunities brought about by the shifting of global supply chains and capital flows toward the ASEAN region, he added.
ASEAN ABIS 2020 will focus on four topics: ASEAN's economic outlook, future orientations for ESG investment in ASEAN, technologies and future jobs in ASEAN, and an ASEAN region of self-reliance and sustainable and inclusive development./.
By Vien Nhu
Follow us on Facebook page @VNGov